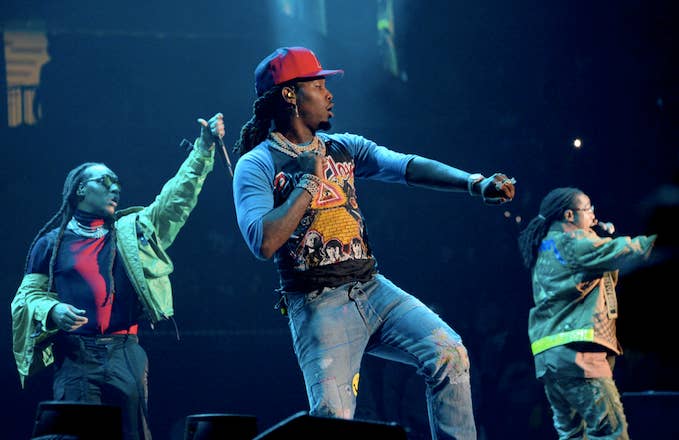 Migos' year-old legal battle with rapper M.O.S. is finally over. 
M.O.S.—real name Leander C. Pickett—filed a lawsuit against the ATL trio in October 2018, claiming their Drake-assisted "Walk It Talk It" track was a rip off of his 2007 record "Walk It Like I Talk It." The plaintiff's song ultimately appeared on the 2008 mixtape It's Like a Movie; however, he didn't attempt to copyright the track until March 2018, about a couple of months after Migos' "Walk It Talk It" track was released. 
Pickett sued Migos, as well as Capitol Records and Quality Control, for unspecified damages. He also "demanded that Defendants immediately cease and desist from any further use of" the work in question.

According to legal documents obtained by Complex, U.S. District Judge Analisa Nadine Torres ruled in Migos favor and dismissed the copyright infringement lawsuit Tuesday. Torres determined M.O.S. had no case, as the phrase "walk it like I talk it" is so common it was not susceptible to copyright protection. The judge then pointed to a number of other rap songs that used similar lyrics: Paul Wall's 2005 record "March 'n' Step" ("Walk it like you talk it"), Young Jeezy's 2006  cut "3 A.M." (I walk it how I talk it), and Wiz Khalifa's 2007 song "Be Easy" ("Walk it how I talk it").
"Because songwriters must be free to borrow sayings and expressions from popular culture, the Second Circuit and courts in this district have found that short and commonplace phrases are not protectable, even when used as the title or repeated lyrics of a song, as is the case here," Torres said. "... The only similarity between the two works at issue, the lyrics 'walk it like I talk it', is not original to the author and is, therefore, not protected by the copyright laws."