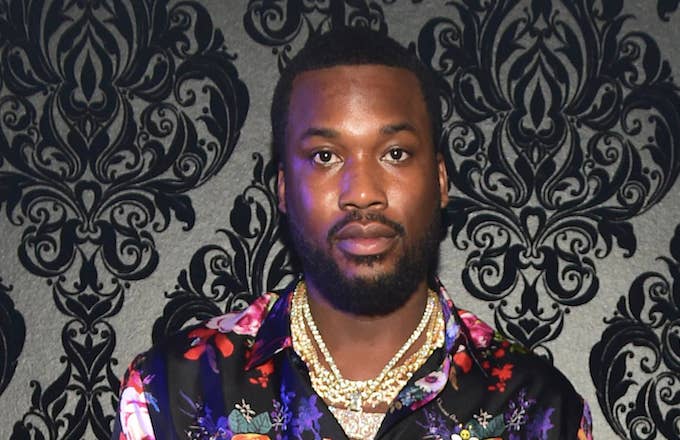 Meek Mill continues to receive love across the country.
Before taking the stage Tuesday night at XFINITY Theatre in Hartford, Connecticut, the Dream Chasers rapper received not one, but two big honors from state officials. Rep. Brandon McGee met with Meek back stage to present him with a key to Connecticut as well as a state-level proclamation that designates March 19 as "Meek Mill Day." The rapper received the honors for his work as a criminal justice reform advocate.
Meek received similar honors from the cities of Philadelphia and Houston.
Meek's Connecticut concert took place just a day after Van Jones stopped in Connecticut to discuss the mission of REFORM Alliance, a criminal justice reform organization co-founded by Meek, JAY-Z, Sixers co-owner Michael Rubin, and more. Jones spoke to Connecticut Gov. Ned Lamont as well as former inmates about a bill that would restore voting privileges to convicted felons who are no longer behind bars. 
"When people are trying to turn their lives around, we should throw them a lifeline and not an anvil," said Jones, the CEO of REFORM Alliance. "To often when people come home from prison, if they've done well on the inside, they've taken classes, they've gotten certificates, they think they're going to come home and do well, and they find doors closed in their faces. And the only door that opens is the door back to prison, and that's wrong. And we can do something about that. This is supposed to be a country that loves the underdog, loves the second chance, loves a comeback story."
Meek was unable to attend the Monday's meeting, but showed his support by sending the governor and parolees a pairs of his PUMA Clyde Court #REFORM sneakers.