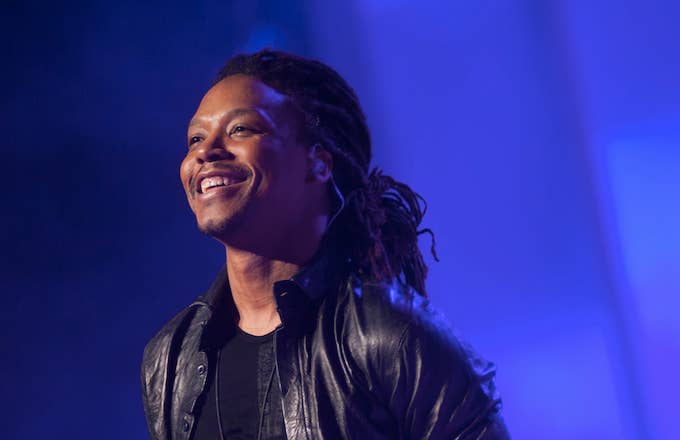 Lupe Fiasco is making a big life change in the upcoming months: Starting Jan. 1, 2019, he will no longer consume violent content.
"I will no longer support or engage with gratuitously senseless and or [sic] purposeless + excessively violent music, tv, cartoons, content and film," he wrote on Instagram. "This includes all of the violent music, media and movies I grew up listening to and watching."
The Chicago rapper's love for martial arts and fighting video games has been well documented throughout the years; however, Lupe now suggests he will spend more time enjoying "peaceful" forms of entertainment: "There are so many other narratives in this world that involve peaceful means of cohabitation and expression with humanity and the world at large that deserves attention, absorption and contemplation," he wrote.
As expected, many Instagram users attempted to create a "gotcha moment" by questioning the rapper's use of swords. Others asked what Lupe what would he do if he were physically attacked. After recognizing the intentions behind the hypothetical, Lupe provided a fairly thoughtful answer. 
"You may associate the opposite of violence with peace. That is not so to me," he wrote. "The opposite of violence is giving assistance, being helpful or building something. It is an action. Peace is a sense of a state of static being. One can be peacefully violent as one can be violently helpful. Actual Violence has a purpose but most depictions of violence in our modern consumptive condition have no purpose."
This isn't the first time Lupe has denounced violent content. Back in 2013, he questioned why so many rappers were using their platform to promote inner-city violence rather than combat it.
"Violent music (and all violent media) effectively says its "ok" to be violent. It provides positive reinforcement for negative actions," he wrote in a series of now-deleted tweets. "If you rap and make violent music then own up to it. Stop hiding behind "art imitating life" as a way to evade the guilt […]Ive made violent music. Done violent things. Most my friends are violent. Lived in violent neighbors. Seen violence first hand [...] A certain point you start to get tired of it. You ask why? why is it like this? what is causing this? why is this ok to live like this?"