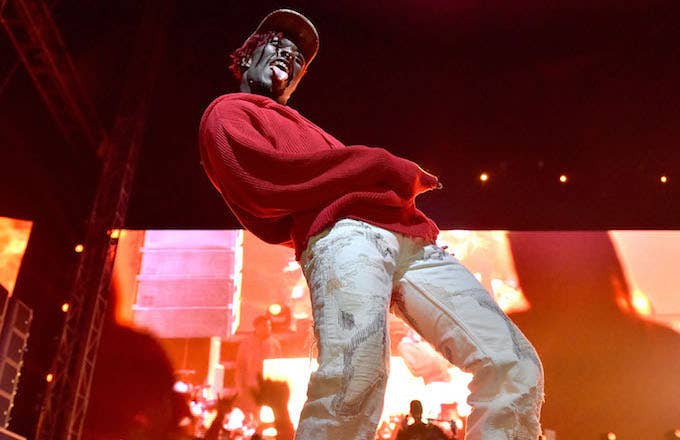 After months of teasers and increasing anticipation, Lil Uzi Vert's new track "Mood" has arrived. The song is in collaborative effort with producers TM88 and Southside, with Supah Mario contributing on the production end.
Uzi Vert gave fans a taste of the track all the back in September, under the original title "Mess Up My Mood (On My Dog)​." About four months later, Southside and TM88 finally confirmed the record's release date on Instagram, alongside its psychedelic cover art. 
You can listen to "Mood" below.
Hours before the track was released, TM88 went on social media to call out Uzi Vert's label, Atlantic Records, which he claims never paid him for producing the 2017 hit single "XO TOUR Llif3."
Despite his beef with Atlantic, TM88 is expected to make big moves in 2018. He and Southside are reportedly working on an 808 Mafia project with Young Thug.
"There's no Jeffery 88 but there a Slime x Sizzle x 88 project that's completed," the producer announce on Twitter last month. In a July interview with Rap-Up, he also spoke about the handful of collaborations and projects he and Southside had on deck.
"Me and Southside are working on this 808 Mafia album. We got Future, Gucci, Thug, there's a lot of people. It's executive produced by me, but we got somebody else that's big helping me out too. So, we're also putting out a beat tape," he said. "We put out a beat tape on LiveMixtapes and we were the first producers to do that. That's how we made our mark in the industry. So, me and Southside are gonna put out a beat tape on Apple Music so fans can get on there, stream it, and rap on the beat or whatever. This is before the 808 album. I've also got my label, Crash Dummy. I'm signing producers. I got three producers right now and I might be looking for more at the moment. Just doing a whole bunch of shit and just working."
Uzi Vert is also looking to dominate 2018. 
The 23-year-old rapper is up for multiple Grammy nominations, including Best New Artist. He's also recently completed a collaborative mixtape with producer Wheezy. So, there's a good chance we'll be receiving more Uzi Vert material in the upcoming weeks. Stay tuned as more information about the tape rolls through.