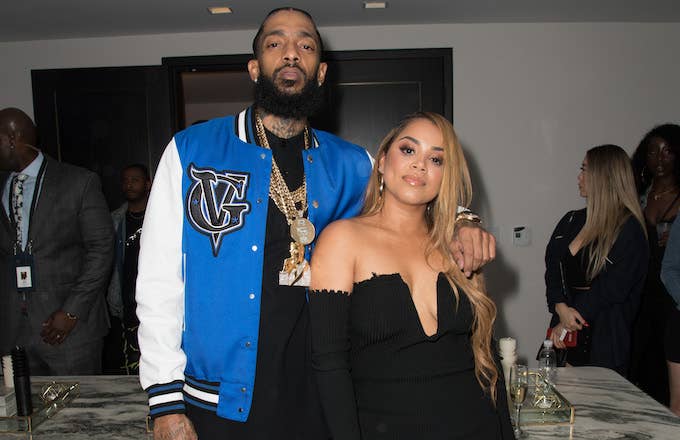 UPDATED 10/16, 11:30 a.m. ET: A judge determined that Nipsey Hussle's immediate family will become the legal guardians to the late rapper's 10-year-old daughter, Emani, TMZ reports. They include his siblings, Samantha Smith and Sam Asghedom, and his mother, Angelique Smith.
See original story below.
Lauren London will legally manage the future finances of her 3-year-old son, who is set to inherit $1 million from his late father, Nipsey Hussle.
According to TMZ, London was granted guardianship over the estate of Kross Ermias Asghedom—her only child with the legendary rapper. The outlet points out that the 34-year-old actress had filed for guardianship back in July, nearly four months after Nipsey was fatally shot in Los Angeles. London previously told the court she will be in charge of raising the child, and wanted to ensure that his seven-figure inheritance was handled properly.
The new guardianship role allows London—who was not married to Nipsey—to participate in legal matters involving Nipsey's estate, which is administered by his brother Blacc Sam (born Samiel Asghedom). Of course, London's involvement will be on her son's behalf.
TMZ points out that there was never a dispute between London and Nipsey's family; however, there has been some legal drama involving Tanisha Foster—the mother of Nipsey's daughter, Emani, who is also expected to inherit $1 million. Nipsey's family has accused Foster of being a neglectful parent, which is why the rapper's sister Samantha Smith has petitioned to become the Emani's legal guardian.
Blacc Sam was appointed the head of Nipsey's estate back in August, after telling a judge he wanted to ensure his brother's legacy remained intact and that all of his business dealings were handled in a proper and timely manner.
He wrote in his filing: "[Nipsey's] passing has created significant media attention, which, in turn has presented potential time-sensitive business opportunities based on [Nipsey Hussle]'s likeness, right of publicity, and other intellectual property based on the media attention surrounding [Nipsey Hussle]'s exceptional life story and musical career."