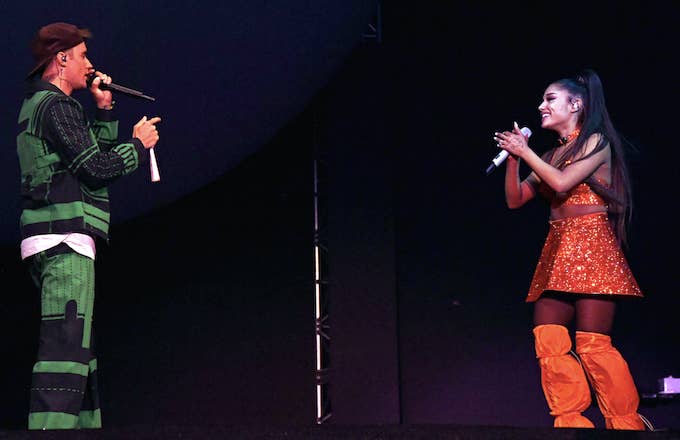 Just like Cardi B, Justin Bieber is tired of the media's negativity.
On Tuesday, the 25-year-old singer called out E! News host Morgan Stewart over her criticism of his recent Coachella appearance. Bieber surprised fans over the weekend when he performed "Sorry" during Ariana Grande's headlining set. Footage from the night confirmed Bieber was singing to a backtrack—a detail Stewart wasn't too thrilled about.
"Poor song started before him," Stewart said about the performance clip, before criticizing Bieber's looks. "I did not realize it was gonna be that bad [...] He definitely looks like he put an OXY pad on that forehead, but I don't care. That is fucked up!"
Days after Stewart made the comments on Nightly Pop, the Biebs took to Twitter to condemn the host's "hurtful" comments and suggested she instead use her platform to spread positivity. 
Grande also responded to Stewart's criticism, writing: "People look so ugly when they talk about other people like this, it's crazy. Like no matter how pretty you are or how long u spent getting ready, u ugly to me now. HOW do people watch shit like this lmao."
The Thank U, Next artist also admitted that Bieber did, in fact, sing to a backtrack—a decision that was made due to time constraints.
Grande went on to thank Bieber for joining her on stage, and reassured him "the world" was happy to have him back.
Bieber said his Coachella performance marked the first time "in two years" he's been on stage. He told the crowd he needed to get his "groove back" and announced his fifth studio album was "coming soon."
Though Bieber has teased his "summer bangers,"TMZ reports that his long-awaited project would likely arrive in 2020.