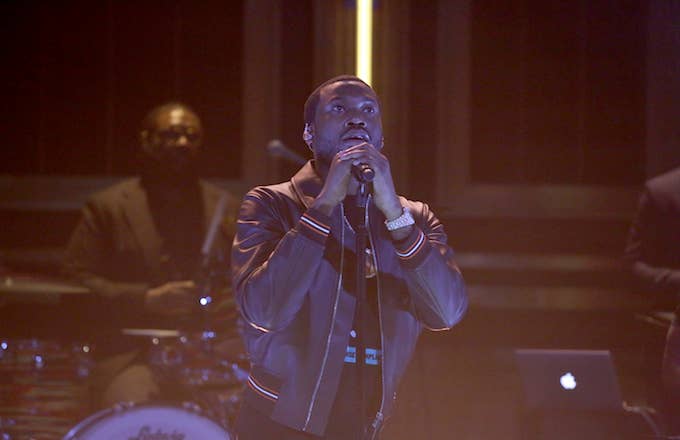 UPDATE 11/15/17 11:30 a.m. ET: TMZ has gone back on their original report regarding Mack's status as a convicted felon. According to the gossip site, Mack's team contacted them to clear up it was a member of Mack's management team, not Mack himself, who was convicted on drug charges.
See below for original story published on 11/14/17.
Genece Brinkley, the Philadelphia judge who's sending Meek Mill to prison for parole violation, reportedly allowed the rapper to work with a convicted felon several years ago. According to a 2014 transcript obtained byTMZ, Meek's then-attorney Gary Silver and prosecutor Noel DeSantis discussed the terms of Meek's probation and the exception made by Brinkley.
The court: "Okay. The other thing that was raised that I have to address is this issue about him signing parole papers, probation papers that he's not going to be around convicted felons ... and the rules of probation state he can't be around convicted felons."
Mack pleaded guilty in 1997 to conspiracy to possess with intent to distribute cocaine. He served a 60-month sentence.
The FBI is reportedly investigating Brinkley's alleged relationship with Mack and whether or not she tried to use her authority to persuade Meek's business decisions.
"The feds have an interest in the judge and [her] potential relationships. This is an investigation looking into a possible extortionate demand," a source told Page Six. "Undercover agents have been in the courtroom monitoring the Meek proceedings since April 2016 […] Mack had previously told Meek how he 'knows the judge and he could help him with his case.'"
Mack insisted he had no strong ties to the judge.
"I've spent more time talking to you than I ever talked to the judge," he told Page Six. "There is no conspiracy, Meek is an old friend of 30-plus years."
The FBI has neither confirmed nor denied that Brinkley is being investigating.
"Per [Justice Department] policy, we neither confirm nor deny the existence of investigations," a representative for the FBI Philly field office said.
Stay tuned as more details become available.