Joey Badass has relinquished the self-bestowed title of "King of New York," and has instead crowned himself as the king of, well, everything.
The Brooklyn rapper made the declaration on the first installment of The Life I Live docuseries. The inaugural episode—which provides a behind-the-scenes look at Joey's everyday life—concludes with a scene in the recording studio (11:30), where he and other Pro Era members play an unreleased track. The snippet includes Joey's line: "Fuck the King of New York, I'm the king period."
The 24-year-old artist has seemingly dismissed other rappers' claims about ruling NYC. He addressed Kendrick Lamar's declaration in his 2013 track "Killuminati Pt. 2," and responded to similar claims made by 6ix9ine on the 2018 cut "King's Dead (Freestyle)." Joey also took to Instagram to underscore his influence within the NYC rap scene.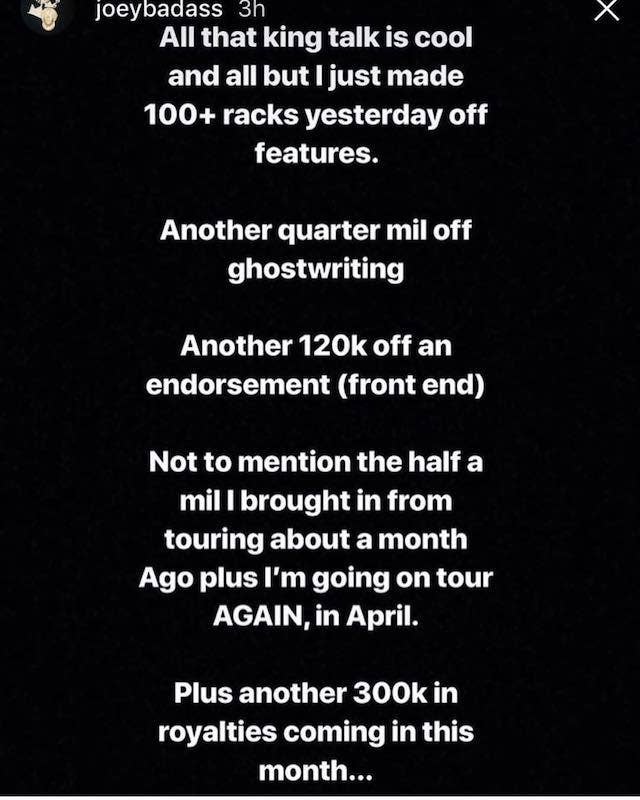 Another highlight of The Life I Live episode is when Joey opens up about the creation of 2013 Pro Era song "Run or Fly." Joey specifically recalls the energy brought by the late artist Capital STEEZ.
"[...] Then STEEZ came. His energy was way higher than everybody else," Joey said (4:30). "Like, what the fuck is 'astromagentum'? [...] And STEEZ was the one-take king. One take. Everything he did was one-take, bro. Never had to re-record his shit. One take, perfect."
You can watch the episode via YouTube above.
Joey will hit the road this summer for the Beast Coast Escape From New York Tour with the Flatbush Zombies. Check out the full schedule below.