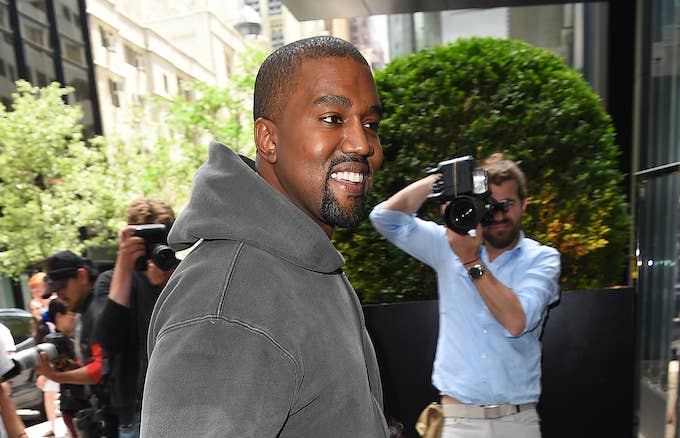 It's a blessed day for Kanye West fans in Motor City.
Shortly after the multi-hyphenate kicked off his Sunday Service at the Aretha Franklin Amphitheatre, it was announced he was bringing a mysterious event to Detroit's Fox Theatre. 
Jesus Is King: A Kanye West Experience will go down at 8 p.m. local time Friday night. According to the venue, tickets for the event are free and available exclusively at Ticketmaster. Fox Theatre says the doors will open at 6:30 p.m. and has encouraged attendees to arrive early. 
"This will be a MOBILE-ONLY event with no PDFs, ticket transfers or screenshots permitted," the venue tweeted. 
Attendees will also be required to hand over their mobile devices upon entry; cellphones, smartphones, and even smart watches will be placed in a YONDR pouch until the event concludes.
The "experience" is described as an "IMAX event," though it's unclear what it will consist of. There's also no word if Kanye will be in attendance.
Stay tuned as more details about Jesus Is King: A Kanye West Experience become available.
Kanye was expected to release his Jesus Is King project today, as suggested by Kim Kardashian's social media post last month. The purported project is still nowhere to be found, much to the dismay of his fans. 
On Friday afternoon, Kanye's representative Trevian Kutti announced Jesus Is King would arrive at 8 p.m.
Kim Kardashian also dropped a major teaser Friday night, sharing what looked like an updated Jesus Is King tracklist.
Def Jam's official Twitter also shared photos of the Fox Theatre marquee and Jesus Is King merch.
An attendee also posted a video taken in the venue's lobby as people were placing their mobile devices in YONDR pouches.