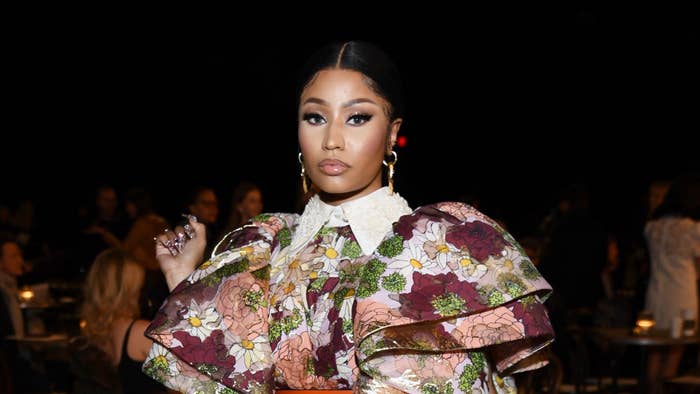 UPDATED 1/20, 9:58 p.m. ET: The court battle between Jennifer Hough and Nicki Minaj is likely headed to the Golden State.
During a Thursday hearing in Manhattan federal court, Hough's legal team confirmed their client's intention to refile her harassment suit against Minaj in California, where the rapper currently resides with her husband, Kenneth Petty. The announcement came about a week after the plaintiff voluntarily dismissed Minaj from the lawsuit without a clear explanation; however, one of Hough's attorneys said Minaj was far from off the hook.
"We plan to refile it in a court with proper jurisdiction," Hough's lawyer Seven N. Gordon told a judge Thursday morning, as reported by Rolling Stone.
Hough's original lawsuit, which was filed in the Eastern District of New York, also include claims related to Petty's 1995 conviction of attempted rape. Hough maintains Petty sexually assaulted her in 1994, and has used intimidation and harassment tactics in an effort to silence her. Judge James R. Cho asked Gordon if his team plans to take the Petty case to California, as well.
The attorney said they will continue to pursue the sexual assault case in New York, if Hough is ultimately rewarded a default judgement; if that occurs, they will try to consolidate the harassment claims against Minaj and Petty in California.
Minaj's attorney, Judd Burstein, responded to the news in following statement to Rolling Stone:
This is just a frivolous gambit to avoid a sanctions motion which I told them that I would be filing shortly and for which they refuse to set a schedule. As usual, they have decided to adopt a tactic without bothering to research the law. Had they done so, they would realize that re-filing their frivolous action in another jurisdiction will only result in another court sanctioning them.
See the original story below.
It seems Nicki Minaj has secured a legal win.
As pointed out by various outlets, Jennifer Hough has voluntarily dismissed her harassment lawsuit against the Queen rapper. Hough's attorney confirmed the move Wednesday, months after she sued Nicki and her husband, Kenneth Petty.
"The case was voluntarily dismissed as to Nicki in NY," Hough's lawyer, Tyrone Blackburn, told Complex. "The case against Kenneth is ongoing."
Court documents, filed in the U.S. District Court for the Eastern District of New York, state the suit was dismissed without prejudice, meaning Hough may pursue the case against Nicki at a later time.
"This does not mean that Nicki Minaj is in the clear," Blackburn added. "In fact, she's probably in a worst position now than prior to when the case started. So, I would say, stay tuned."
Nicki has yet to directly respond to the dismissal, but she showed love to all her supporters after her name began trending on Twitter.
Sources tell TMZ there was no financial settlement in the dismissal; however, Nicki reportedly plans to sue Hough over the cost of legal fees.
The legal battle goes all the way back to the mid-1990s, when Petty was accused of sexually assaulting Hough when they were both 16 years old. In 1995, Petty pleaded guilty to attempted first-degree rape and went on to serve more than four years behind bars. 
Hough filed a lawsuit against Nick and Petty in August 2021, accusing the celebrity couple of harassment and intimidation in an effort to keep her quiet. Hough claimed Nicki and her associates contacted her directly, and tried to convince her to recant her sexual assault claims. She even alleges that two people offered her family $500,000 to rescind her story.
Nicki denied the allegations in court documents filed last month.
"During the call, I never asked her to change her story; I never offered her any money in return for a statement, and I did not threaten her with any type of harm if she chose not to provide a statement," Minaj reportedly stated. "In fact, I emphatically told her that I did not want her to lie about anything and to tell the truth about what she had just revealed to me only if she was comfortable with doing so."
Stay tuned as more details about Petty's case become available.