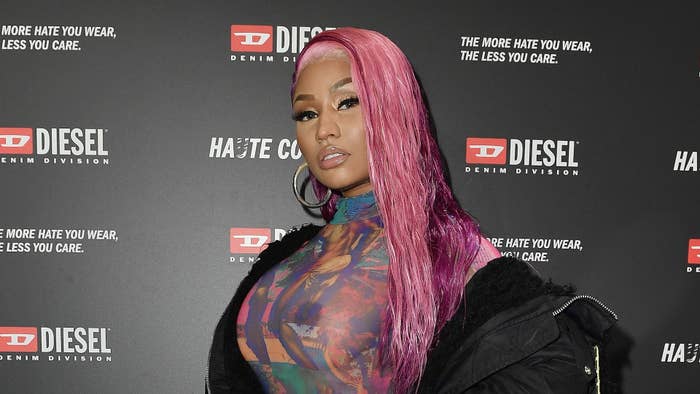 Nicki Minaj has got some of the Barbz torn.
On Tuesday afternoon, the Queen rapper took to Twitter to express gratitude for a HotNewHipHop piece titled Why Nicki Minaj Is One of the Greatest of All Time. The Op-Ed, written by Joshua Robinson, details Nicki's rise within the music industry and the undeniable impact she's had on the rap game, which is especially noticeable when she decides to lay low.
"Yet, what's most astonishing and powerful about Nicki's impact on Hip-Hop is her presence and, sometimes, the lack thereof," Robinson writes. "Whether she's going on an unexpected freestyle or guest-feature run, giving a rare interview, or speaking her mind in a wild Twitter rant, Nicki Minaj's presence — be it aural, digital, or visual — is absolutely enthralling, and when she's on hiatus, you can tell. Despite the welcomed contributions of women like Cardi B, Megan Thee Stallion City Girls, and Doja Cat over the past few years, female rap still feels incomplete without Nicki Minaj's presence and output, and that alone illustrates how important she is to Hip-Hop, as a genre, and as a culture."
Nicki shared the above paragraph on social media along with a praying hands emoji and a few eyebrow-raising edits. The screenshot posted on her Twitter shows the names of her fellow female artists scribbled out with no explanation.
The move immediately polarized fans, as some saw it as amusing, while others considered it unnecessary and petty. Though the Nicki vs. Cardi beef has been well publicized over the years, her purported issues with the other acts have received less attention—either because the beef was quickly squashed or one of the involved parties denied there was any bad blood.
Cardi, Megan, City Girls, and Doja Cat have not publicly responded to Nicki's post; however, their respective fan bases—and the Barbz—have plenty to say. You can read some of the reactions below.