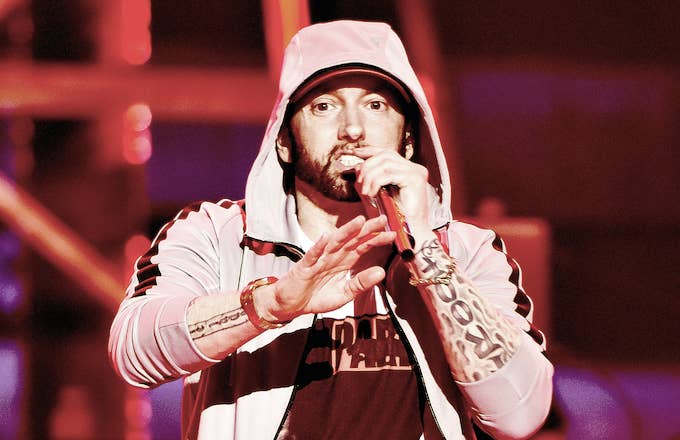 It appears Eminem has new music on deck.
Weeks after he appeared on Nicki Minaj's Queen album, the Detroit rapper hit up social media to tease a never-before-heard record. And we assume it'll land on the upcoming Venom soundtrack. The 15-second clip features the film's title sequence with the "E" transforming into Em's signature backwards initial. The menacing beat plays for several seconds before we hear the rapper's line: "Venom! Knock, knock, let the devil in."
Shady didn't reveal any details about the song—such as its title or expected release date—but it's safe to say it'll tie into the forthcoming Venom film one way or another. We'll be sure to keep our eyes peeled for any new info.
Venom will be directed by Ruben Fleischer, and will star Michelle Williams, Riz Ahmed, and Tom Hardy in the title role. Hardy recently confirmed Sony intends to release at least two more Venom sequels with him as the star.
"I'm open to whatever you want to do with it. We've signed up for three of them. So it's very much an open case," he told Total Film Magazine about the project."We'll see what people's responses are to it. I think it's an awesome character. I love playing both of them. It's an amuse-bouche, and for Sony, it's the Venom-verse launched in isolation, as it were. We all prepped for it to be a standalone universe. So whatever Sony want to attach to it at a later date, it's a fulcrum piece. But let's see what happens when it lands."
Venom will hit theaters Oct. 5.