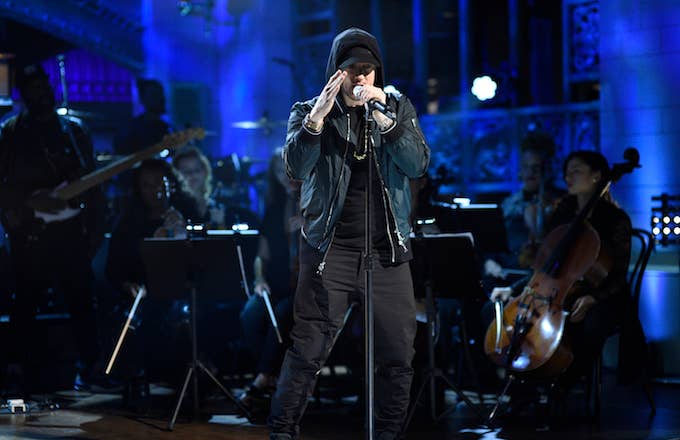 Eminem has dragged Ivanka Trump into his seemingly one-sided beef with POTUS.
On Thursday night, the 45-year-old rapper dropped his long-awaited ninth studio album, Revival, which included a notable jab at President Trump and first-daughter Ivanka. You can hear it on the track "Framed," at around the 90-second mark:
"Donald Duck's on as the Tonka Truck in the yard
But dog how the fuck is Ivanka Trump in the trunk of my car
Gotta get to the bottom of it to try to solve it
Must go above and beyond, 'cause it's incumbent upon
Me, 'cause I feel somewhat responsible for the dumb little blonde girl"
Whether you think the line is savage, weak, or hypocritical, we can all agree that it's bound to cause controversy. Rapping about Trump's oldest daughter locked in a trunk has misogynistic undertones that will likely result in backlash from both right- and left-wing audiences.
But Ivanka wasn't the only woman in Trump's life to be mentioned on Revival. On the track "Offended," Em makes a reference to Kellyanne "Alternative Facts" Conway, the counselor to the president.
You can listen to Revival now on iTunes and Apple Music.
The project also tackles issues like racism, white privilege and police brutality.