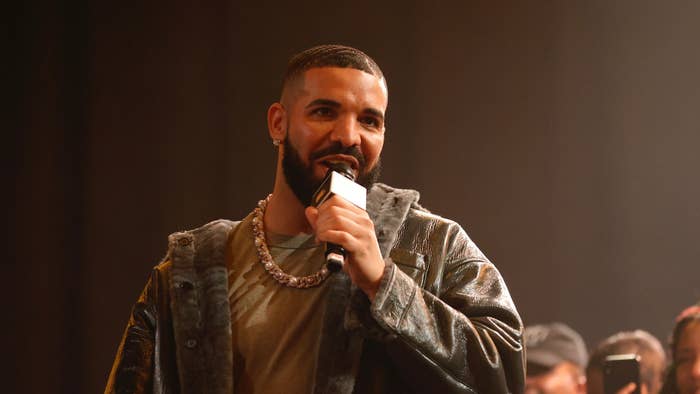 Drake and Jack Harlow are clearly in a giving mood. 
While vacationing in Turks and Caicos, the rappers decided to take some time to bless an unsuspecting fan with hard-cold cash. Drizzy documented the gesture in an Instagram video that was filmed at Infiniti Restaurant at Seven Stars Resort.
"Alright what's up? This Drake … I'm with GQ Switzerlands 'Most Attractive Man of the Decade,' Jack Harlow," he says in the clip. "And we're gonna try to bless somebody's life tonight." 
The video then cuts to Drake and Harlow speaking with Janardo Laporte, a saxophonist/singer who performs at the Grace Bay Club. Drake praises Laporte for his rendition of 2013's "Hold On, We're Going Home," which he considered superior to his original version: "It's better than the OG, I'm not gonna lie," he tells the musician.
Drake then gets on a laptop and pulls up roulette on Stake, the crypto betting platform that he partnered with earlier this year. The OVO boss asks Laporte and Harlow to select their numbers, which were seven and 13, respectively. Drake then asks Laporte what he would do with any potential winnings. 
"I got three kids. So I wanna do something for my kids," he said, "and enhance my music career a little bit."
After a couple of spins, Drake pulled out $20,000 in cash and handed it to Laporte on behalf of Stake. The fan appeared to be in disbelief, and went to hug the rappers before taking a shot.
"Hey, I wasn't expecting this," Laporte told the camera. "I was on my way home, and—oh man! Yeah, baby!"
You can check out the moment below.

The video was shared just days after Drake was filmed handing $10,000 to a random fan in Turks and Caicos.