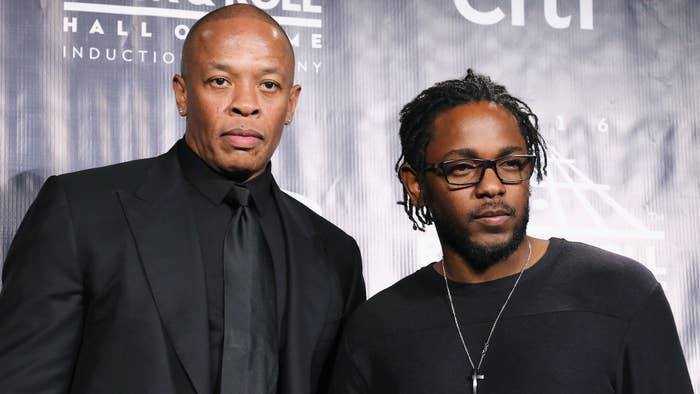 The Super Bowl LVI halftime show will be one for the books.
On Thursday afternoon, the NFL announced it had tapped Kendrick Lamar, Dr. Dre, Eminem, Snoop Dogg, and Mary J. Blige to perform at next year's sporting event—marking the first time all five artists have shared the stage together. Kendrick and Dre confirmed the news via social media, with the latter stating: "This will introduce the next saga of my career… Bigger and Better than Ever!!!"
The Pepsi Super Bowl Halftime Show will, once again, be produced by Jay-Z's Roc Nation, with Hamish Hamilton serving as director.
"Artists like Dr. Dre and Snoop Dogg were at the forefront of the West Coast hip hop revolution, so to be able to bring them back to LA, where it all began alongside Eminem, Mary J. Blige and Kendrick Lamar will prove to be an epic, unforgettable celebration of the impact hip hop has today," said Todd Kaplan, Pepsi's VP of Marketing. "The Pepsi Super Bowl Halftime Show has become a landmark cultural moment, bringing about some of the most iconic performances over the years – from JLo and Shakira to Lady Gaga to The Weeknd – and we are thrilled to bring together such an incredible array of talented, record-breaking musicians to put on a performance for the ages."
Snoop proposed a nearly identical lineup back in May.
"Hopefully the NFL will be smart and make the right decision. It's in Inglewood, California, and it will make the most sense in the world," the rapper told Yahoo! News. "I'm available, Dre's available, Eminem's available, Kendrick Lamar, 50 Cent — whoever Dr. Dre wants to pull out of his hat to make this thing a professional event and make it big and the biggest effort they can have. It's just a matter of the NFL pulling the trigger."
Additionally, Pepsi and the NFL have teamed up to help launch Reginal School #1, a Los Angeles magnet school based on the USC Iovine and Young Academy, a program founded by Dr. Dre and music executive Jimmy Iovine. The high school, which is set to open next fall, will focus on integrated design, technology, and entrepreneurship.
"This effort will help develop and inspire the next generation of entrepreneurs and innovators," Megan K. Reilly, Los Angeles Unified Interim Superintendent, said. "We are excited about the additional opportunities this partnership will bring to our students."
Super Bowl LVI will take place Feb. 13, 2022 at SoFi Stadium Stadium in Inglewood, California.