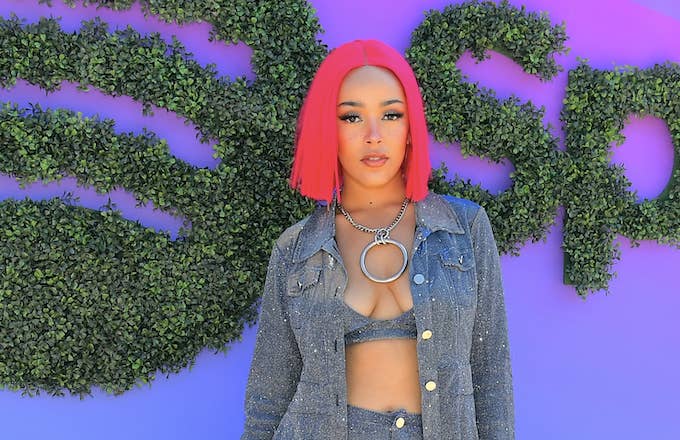 Doja Cat caught some mild heat on Friday, after a clip of an old Instagram Live broadcast began circulating on social media.
The footage in question shows the 23-year-old artist rapping Cardi B's "Press" single in an exaggerated low tone. Doja then breaks out in laughter when playfully reciting the chorus.
"Bruh, bruh, look. I'mma get canceled, but bro," she told the camera.
The Instagram Live broadcast was posted in early June, shortly after "Press" hit streaming services; however, DJ Akademiks reshared a clip of the stream via Instagram on Friday ... and it wasn't long before Cardi caught wind of it.
"Do anything for clout ... Moo," Cardi commented on Akademik's since-deleted post. The first part of Cardi's comment was a line taken from her "Clout" track with Offset; the "Moo" portion was an obvious reference to Doja's viral track "Mooo!," in which she raps, "Bitch, I'm a cow, bitch, I'm a cow/I'm not a cat, I don't say meow."
Several fans began taking shots at Doja over the resurfaced video. She was accused of being jealous, a hater, and, yes, a "clout chaser."
Doja has since responded to the backlash with a snippet taken from the same Instagram Live stream. In the clip, Doja shows love to Cardi as well as "Press."
"Not that this song isn't fire—this song is so fuego," she said. "I love Cardi B."