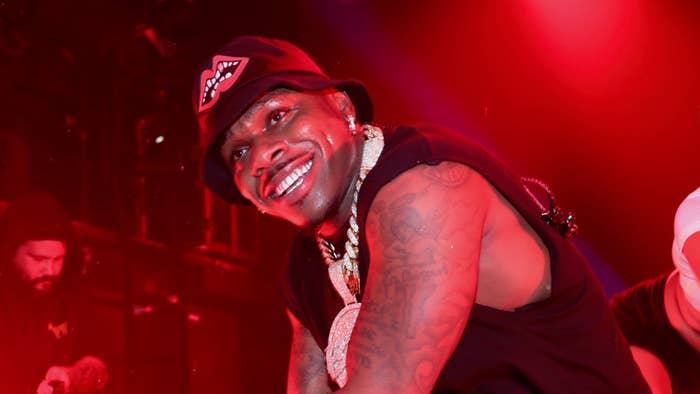 DaBaby has jokes.
The controversial rapper took to Instagram on Wednesday to poke fun at his critics and his so-called "fall from grace." He posted a brief video in which he seemingly moans in pain before the camera pans to him awkwardly lying on a driveway with his hands and legs spread apart.
"Ayo, what happened to your leg?" the man behind the camera asks.
"I was at the top, but then I fell off," DaBaby responds with a laugh. "Help me up, n***a. Help me up, I fell off."
The 30-year-old proceeds to get up from the ground and limp back to his car, laughing all the while.
"I FELL OFF🙋🏾‍♂️😂 But nah fr man GOD IS GREAT," he wrote in the caption. "I ran this shit up from NOTHING & still stand firm on morals & principles. I'm BLESSED. & Filled with gratitude no matter what."
DaBaby posted the video amid embarrassing reports of low concert ticket sales.
As pointed out by several outlets, a venue with a reported capacity of 1,300 is selling general admission buy one/get one tickets for as low as $22 (not including a $6 fee). The BOGO tickets will be offered through Nov. 14 and are non-refundable.
Naturally, the uncommon deal resulted in online roasting.
DaBaby sparked outrage last year when he made a series of sexist and homophobic remarks during his Rolling Loud Miami set.
"If you didn't show up today with HIV, AIDS, or any of them deadly sexually transmitted diseases that'll make you die in two to three weeks, then put your cellphone lighter up," he told the crowd. "Ladies, if your p***y smell like water, put your cellphone lighter up. Fellas, if you ain't sucking dick in the parking lot, put your cellphone lighter up."
DaBaby's comments immediately drew backlash from fans, fellow artists, and activists who accused him of bigotry and spreading dangerous misinformation about HIV/AIDS. The controversy also cost DaBaby big business deals with booooMan, Lollapalooza, and Burger King.
Earlier this year, it was reported that DaBaby's New Orleans show had been canceled because of low ticket sales. His team denied the report, and insisted the show had been scrapped because the promoter failed to fulfill their obligations. The rapper took another L this year when his Baby on Baby 2 project debuted at No. 34 on the Billboard 200 with about 17,000 units earned in its first week. He responded to the underwhelming figures by claiming he was "blackballed."