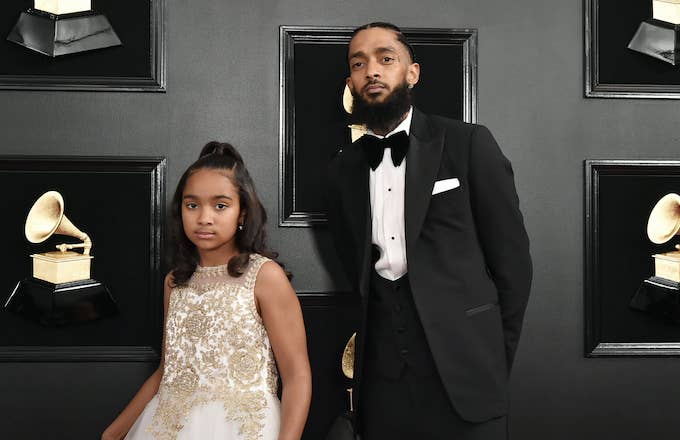 The custody battle over Nipsey Hussle's 10-year-old daughter continues.
Nipsey's siblings appeared in court Tuesday to ensure Emani Asghedom remained with the late rapper's family. Shortly after Nipsey's fatal shooting in late March, his sister Samantha Smith petitioned to become the child's legal guardian. Smith argued that Emani's mother, Tanisha Foster, was unable to provide a "stable environment" for the girl.
The petition read: "[Smith] always been a presence in Emani's life and along with the rest of Emani's paternal family has assisted in her care [...] Nipsey's sister has been in his daughter's life for years, helping raise her."
Smith and Nipsey's brother, Blacc Sam, appeared at this week's custody hearing along with Foster, who reportedly broke down in court. Though Foster and Nipsey had joint custody of Emani, TMZ reports the mother had not seen the child in months. 
According to the outlet, the court room was cleared for 20 minutes to give Foster and Emani some time together. The judge ultimately postponed the custody hearing to Friday, when a final decision about guardianship and finances will be made.
"I love my daughter and I'll do whatever it takes to get her back," Foster told The Blast after her court appearance. 
Blacc Sam and Nipsey's father, Dawit Asghedom, have signed off on Smith's petition. Blacc Sam is now seeking control over Nipsey's multimillion-dollar estate, as the rapper reportedly died without a will. 
"[Nipsey's] passing has created significant media attention," Blacc Smith's petition reads, "which, in turn has presented potential time-sensitive business opportunities based on [Nipsey Hussle]'s likeness, right of publicity, and other intellectual property based on the media attention surrounding [Nipsey Hussle]'s exceptional life story and musical career."