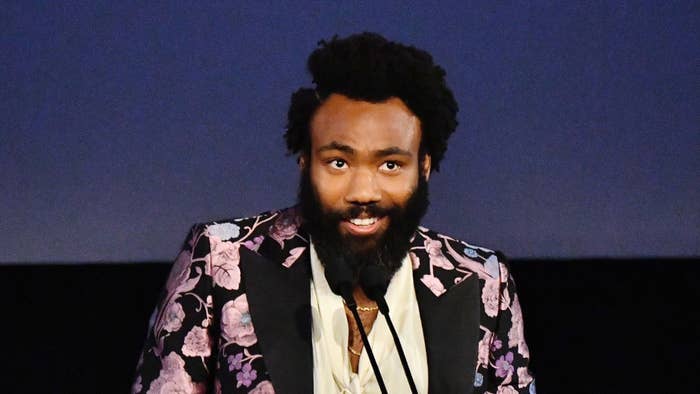 Though pettiness is widely regarded as a negative trait, it can often become a powerful motivator. Just ask Childish Gambino.
In a newly released trailer for The Shop season 5, the multi-hyphenate shed some more light on the inspiration behind Awaken, My Love, and how he created the Grammy-winning album to prove a point.
"Did you ever tap into something that you feel is kinda bad to, like—it's in you to win," he said in a clip shared by UNINTERRUPTED. "Because I struggle with that. I am naturally, like, petty. Like, extremely petty. Awaken, My Love was literally because somebody was like, 'Oh, he can't make a hit.' And I was like, 'Oh, not only will I make a hit, I won't make a video for it.'
Abbott Elementary creator and star Quinta Brunson then interjected: "Pettiness has it's place."
"It makes you stronger," Gambino continued. "But I also know it's dark. It's not something that you should be—it's not something that it should be [the main motivator], 'cause it's bad." 
Awaken, My Love was released in late 2016 and debuted in the top five of the Billboard 200, marking Gambino's highest-charting album. The project spanned 11 tracks—including the Grammy-winning single "Redbone"—and featured contributions from Ludwig Göransson, Gary Clark Jr., and Zac Rae.
During a 2016 interview with triple j, Gambino opened up about Awaken, My Love's recording process and how it was far from enjoyable.
"To be completely honest, it wasn't a lot of fun, it was actually really hard," Gambino said. "I was going through a lot and I also think in America we're going through a lot right now with everything that's going on, so I was just trying to play what I felt, but I was doing it with friends, so at the end of the day, that's what matters."
Season five of The Shop premieres at noon ET this Friday on UNINTERRUPTED's YouTube channel.