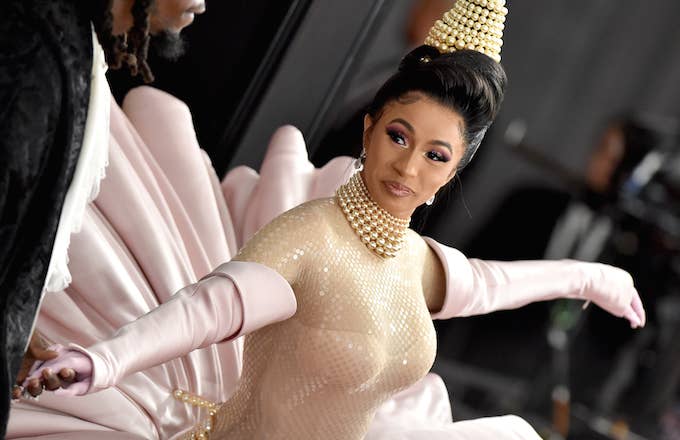 Cardi B has waged a legal war against a couple of vloggers.
According to TMZ, the Invasion of Privacy rapper is suing online personalities Latasha K and Starmarie Ebony Jones over outrageous claims regarding her health and character. Latasha, who operates a blog titled unWinewithTashaK, reportedly disparaged Cardi in a total of 23 videos posted over the span of 14 months. In one of the videos, Latasha suggested Cardi's first-born child, Kulture, would be born with "intellectual disabilities" due to the rapper's drug use during pregnancy. 
Cardi called out Latasha for the comments in late 2018, and issued a stern warning:
"I'm gonna sue you for defamation of character because I let that b***h play and talk shit about me, but when you talk shit about my daughter ..." Cardi said on Instagram Live. "B***h you a whole f**king weirdo. A b**h that's 40 years old and pregnant too, and then all you can do is talk s**t about me, ho. F**k outta here."
YouTuber Starmarie Ebony Jones has also taken aim at Cardi, accusing the 26-year-old artist of doing Molly and cocaine, as well as engaging in prostitution. The suit states Jones had referred to the rapper as "a Grammy nominated prostitute running around spreading her herpes." Furthermore, Latasha and Jones reportedly recorded a collaborative video that include more drug- and sex-related allegations against Cardi.
According to the suit, both vloggers were given the opportunity to retract their statements, but ultimately refused. Cardi is suing for defamation, and seeking an injunction to delete the videos in question.