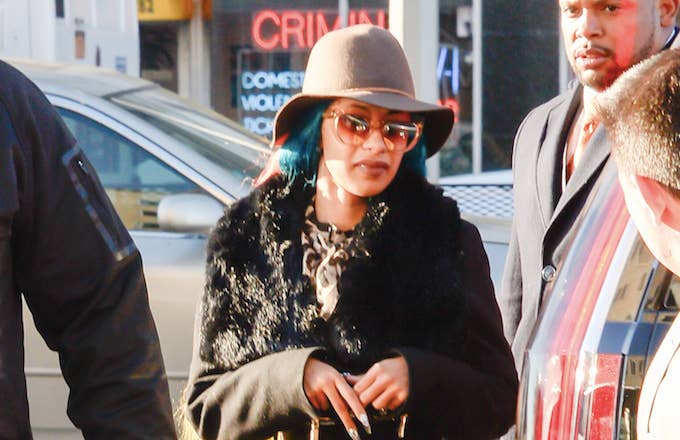 It was an eventful day for Cardi B.
The Bronx-bred rapper appeared in court early Friday on assault and reckless endangerment charges. Though it was far from a pleasant moment, Cardi ultimately dodged jail time without bail, as she wasn't considered a flight risk. But that wasn't the only good news Cardi received this morning.
As she made her way out of the courthouse, Cardi faced a group of photographers and reporters. There was, of course, mild commotion as people attempted to get their best shot of the artist; however, there was one particular individual who caught Cardi's attention.
"How does it feel to be nominated?" the man asked, referring to her recent Grammy nominations.
"I am?" she responded. "How many nominations?"
Someone informed her she was up for five trophies, which prompted the most Cardi be reaction.
You can check out the interaction in the video below.
"What a way to find out I got 5 Grammys nominations😩😩😩," she captioned the video. "I'm tellin you my life is a movie. I work my ass off for this! Win or not, at least I know I had a chance and people was watching and admiring my work. Im Soo happy!THANK YOU!"
Cardi is up for Album of the Year and Best Rap Album (Invasion of Privacy), as well as Song of the Year ("I Like It"), Best Rap Performance ("Be Careful"), and Best Pop Duo/Group Performance ("Girls Like You" with Maroon 5). 
The 2019 Grammy Awards will be broadcasted live Feb. 10 from the Staples Center in Los Angeles.