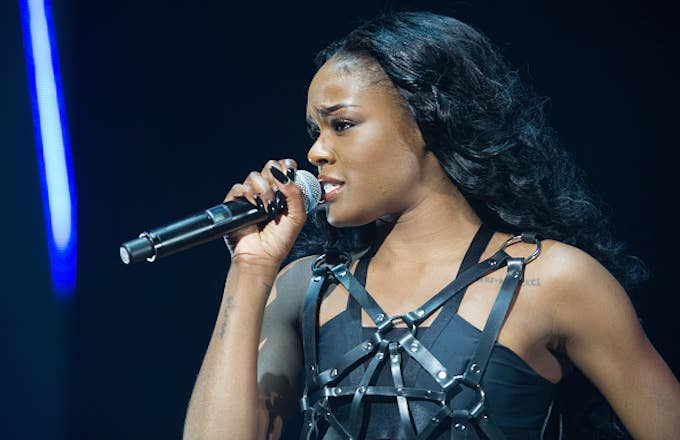 Azealia Banks has dodged another jail sentence.
On Wednesday, the Harlem rapper took a plea deal in her 2015 assault case, in which she allegedly punched and bit the breast of a nightclub security guard. Page Six reports Banks pleaded guilty to third-degree assault in exchange for a deferred no-jail sentence. The deal was accepted on the same day jury selection was scheduled to begin.
"Did you intentionally cause physical injury to Christine Soares [the alleged victim] by biting down on her breast?" Judge Ann Scherzer asked in Manhattan Criminal Court.
Banks replied with a simple "Yes," according to Page Six.
As a part of her plea deal, the 25-year-old artist is required to complete anger management classes, continue mental health treatment, and avoid any illegal activity. If she adheres to the conditions, Banks' assault conviction will be reduced to a disorderly conduct violation. If she fails to comply, the rapper would face up to a year behind bars.
In 2015, Banks was accused of attacking Soares, an employee of NYC's Up&Down nightclub, after Banks was prohibited from entering a private party. The rapper initially faced charges of misdemeanor assault, attempted assault, and disorderly conduct. Banks failed to appear in court last Monday to face the charges, which prompted a Manhattan judge to issue an arrest warrant.
During a pre-trial hearing last Friday, prosecutors brought up Banks' violent past and sought to include the damaging details in the 2015 assault case. Assistant District Attorney Shea Donato brought up the rapper's altercation with Russell Crowe, as well as a 2009 incident in which Banks allegedly slashed her sister's neck with a box cutter.