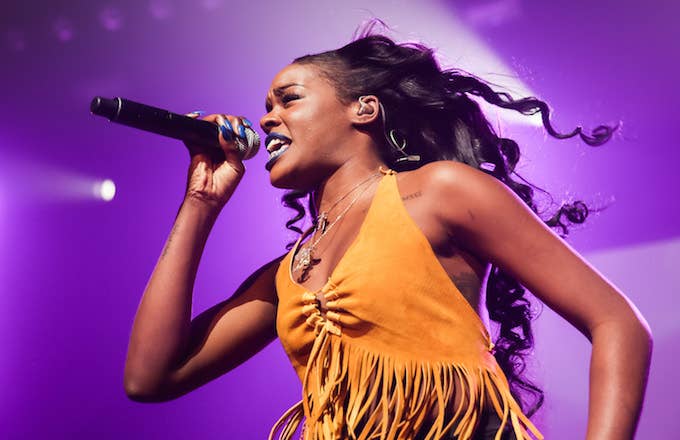 Azealia Banks says "mermaid season" has officially begun.
More than five years after she released her debut mixtape Fantasea, the 26-year-old Harlem rapper announced she will deliver its long-awaited follow-up in 2018. Banks shared the news Monday via Instagram, writing: "Okay guys !! so Fantasea Two the second wave is going to be released via @entertainmentone In March 2018."
The project will mark Banks' first full-length release since her 2016 self-released tape Slay-Z. In a 2017 interview with XXL, she spoke about reworking the project and her decision to change Fantasea II from a mixtape to a full-fledged album.
"We're gonna be redoing Slay-Z, just because there are a couple of songs on Slay-Z that didn't really get their chance, and I think that, coupled with some new material, Slay-Z can actually have her moment in time," she said. "Then after that, it's Fantasea II, which is gonna be an album instead of a mixtape. It'll be a follow-up to Fantasea. Then after that, it's Business & Pleasure, which is the proper follow-up to Broke With Expensive Taste."
We'll see if everything goes according to plan.
Last summer, Banks shared a now-deleted Instagram post that featured a list of lofty goals: "If I can manage to get signed by JAY-Z, have him pickup Slay-Z (a no brainer), release the iggy collab, get Kanye to give me this beat (for free lol), release Fantasea II: The Second Wave on TIDAL (so fitting), and get Lionsgate to release CoCo, all my little rap bitch dreams will be complete," she wrote, before adding, "I'll sign a gag order I don't care lol. I want to sign with JAY-Z."
Clearly, she's wasting very little time in 2018.
On Monday, Banks called on her fans for financial help to make a video project happen. She posted a breakdown of the budget, which totaled nearly $100,000. The rapper is aiming to film the video at the end of the month and premiere it on Valentine's Day.
"I really want to make this project a reality. And where there's a will there's a way," she wrote. "Let me figure out a way to do this … even if I get half ! I will be good!"