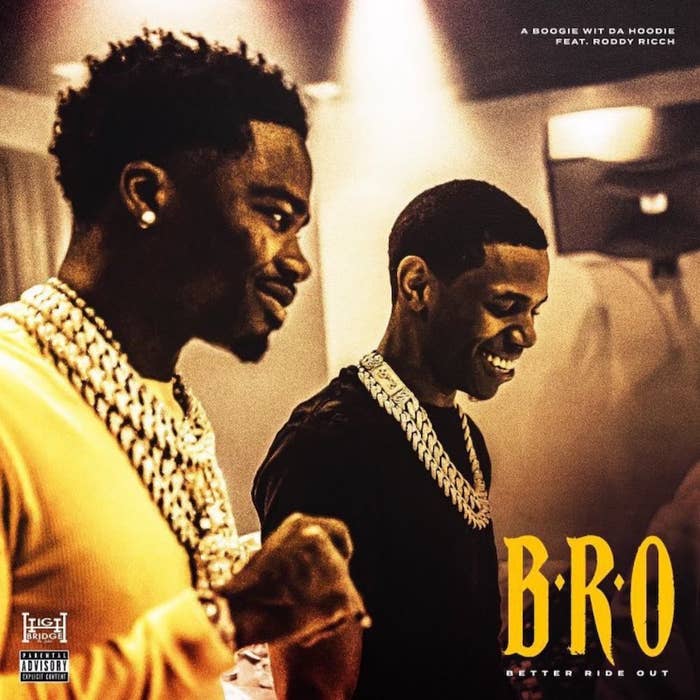 A Boogie Wit Da Hoodie is back with new music.
The 26-year-old connects with Roddy Ricch on "B.R.O. (Better Ride Out)," the first single off his long-awaited fourth studio album. A Boogie confirmed the release via Instagram this week, when he shared a video clip of his studio session with the Live Life Fast artist.
"If I call you Bro you better riiide out🖤," he captioned the post. "New single dropping October 7th #BeforetheAlbum."
This isn't the first time A Boogie and Roddy have teamed up, collaborating on past tracks like 2019's "Tip Toe," as well as 2020's "Numbers" and "Lost My Soul." During a 2019 interview with Billboard, A Boogie spoke about his friendship with Ricch and how they share the "exact mindset."
"You know how you are with your day-one friends? We could be like that, but at the same time, we understand each other enough to know, 'Aight, I can be next door from him. He's working on his project, I'm working on my project and we just sit in our own spaces and zone out,'" A Boogie explained. "But then, he can pull up on me like when he pulled up to New York and I'm in Jue Lan club. Same thing when I go to L.A., I pop up on him and it's the same love. So anytime somebody treats the relationship like that, you gotta keep it going and keep that genuation. I said genuation. That's a good a—word."
You can stream "B.R.O. (Better Ride Out)" now on all major platforms. A Boogie Wit Da Hoodie's Me vs Myself album is expected to arrive on Nov. 4.