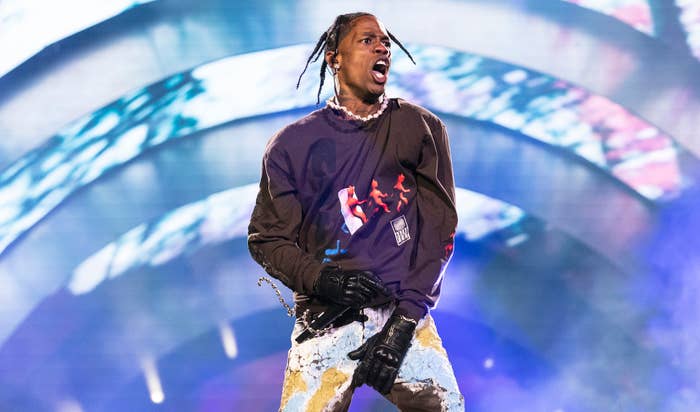 Nearly two years since the November 2021 tragedy at Travis Scott's Astroworld Festival, the Houston rapper reflects on the deadly crowd-crush incident on his new album Utopia.
The project's fourth track, the Sampha-featuring "My Eyes," sees Scott reference the deadly crowd surge that left 10 people, including one nine-year-old boy, dead.
"I replay them nights, and right by my side, all I see is a sea of people that ride wit' me/If they just knew what Scotty would do to jump off the stage and save him a child," Scott raps on his closing verse.
The Astroworld Festival tragedy's youngest victim was nine-year-old Ezra Blount, who died days after he was trampled during the deadly crowd surge. Blount's family subsequently filed a lawsuit against Travis Scott and Live Nation.
"The Blount family is grieving the incomprehensible loss of their precious young son," family attorney Ben Crump said at the time. "This should not have been the outcome of taking their son to a concert, what should have been a joyful celebration. Ezra's death is absolutely heartbreaking. We are committed to seeking answers and justice for the Blount family. But we stand in solidarity with the family, in grief, and in prayer."
Back in June, a grand jury declined to indict Scott on criminal charges relating to the disaster that took place at the Houston festival.
"Today's decision by the Harris County District Attorney confirms what we have known all along — that Travis Scott is not responsible for the Astroworld tragedy," Scott's attorney, Kent Schaffer, told People in June. "This is consistent with investigative reporting by numerous media outlets and federal and state government reports that have squarely placed the onus for event safety crises on organizers, operators and contractors – not performers."
Last Friday, the Houston Police Department released its final report on the November 2021 tragedy at Travis Scott's Astroworld Festival. Scott's attorney expressed that he wasn't happy with the timing of the HPD's report, as it coincided with the rapper's Utopia release. Speaking with TMZ, Schaffer accused police of trying to harm Travis Scott's album sales.