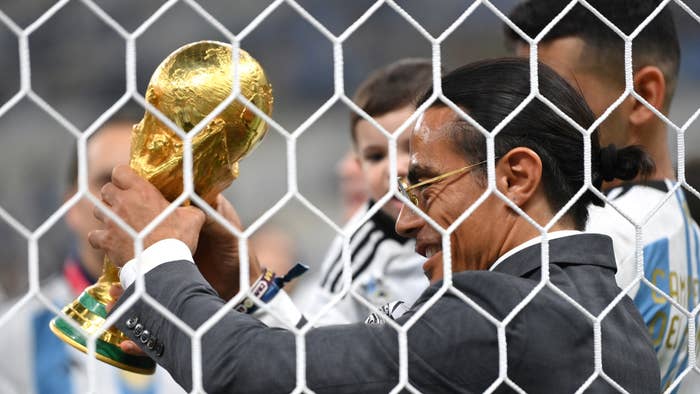 Salt Bae can add Rolling Loud to the list of events he's been banned from after the viral celebrity crashed Argentina's World Cup celebration. 
Granted, Rolling Loud is likely joking and using the viral moment for promotion, the music festival took to Twitter on Thursday to announce plans to ban Salt Bae from attending its Los Angeles festival in March.
"We have also banned Salt Bae from Rolling Loud LA 2023 in March," the statement from its official Twitter account read.
For those who missed it: Following Argentina's win against France in the World Cup final last Sunday, Salt Bae, or Nusret Gökçe, found his way onto the pitch, where he held and kissed the FIFA World Cup trophy and forced a handful of players, including Lionel Messi, into taking photos with him.
Due to his actions, Salt Bae has been banned from attending the U.S. Open Cup final in 2023. The official Twitter account for the soccer tournament announced the news on Tuesday: "Salt Bae is hereby banned from the 2023 U.S. Open Cup Final."
Meanwhile, while FIFA has not yet announced any punishment for Salt Bae's actions at the World Cup, the organization has launched a probe into how he got onto the field after the game. 
"Following a review, FIFA has been establishing how individuals gained undue access to the pitch after the closing ceremony at Lusail stadium on 18 December. The appropriate internal action will be taken," the statement said, per Fox News.