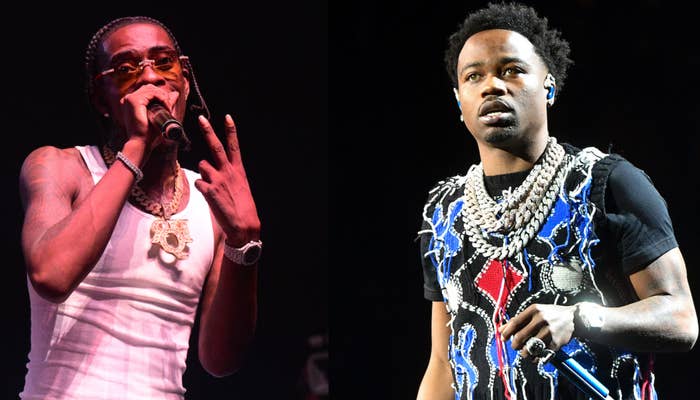 Rich Homie Quan and Roddy Ricch have smoothed things over after the former accused the Compton rapper of removing him from a song on DJ Drama's new album I'm Really Like That.
When Drama's project dropped last Friday, Quan took issue with the fact that he was left off "FMFU," a standout track that features Lil Wayne, Gucci Mane, and Roddy. The Atlanta MC then took to social media to explain his frustration, saying, "Nothing against Gucci Mane, 'cause I love Gucci. Bro, [wasn't] nobody on that song when it was sent to me." 
Rich Homie Quan hopped on Instagram Live and ripped apart Roddy's body of work before challenging the 24-year-old to a Verzuz-type battle. "Yeah so Roddy, since you wanted me off the song man, shit, let's go back and forth, catalog to catalog," the 33-year-old said. "You ain't got nothing but that 'Box' shit, 'cause all that other shit wack. … That's on all the money he got in the bank."
Hours later, Roddy responded by sharing his side of the story on Instagram, claiming that he sent DJ Drama the hook and no one prevented Quan from being on the song.
"You too old for this internet shit but I ain't even know u was on the phone," Roddy wrote. "I sent Drama the hook and let them do the rest. Aint never been no n***a to stop nobody from eating especially a n***a ion even know. Im around tho champ." 
Cooler heads prevailed, with Rich Homie Quan announcing he and Roddy squashed the beef.
"Just got off the phone with @roddyricch everything is smooth," he wrote. "We settled it like men and I want to apologize for my position at the moment and take this opportunity to show everyone that through conversations we can have solutions."