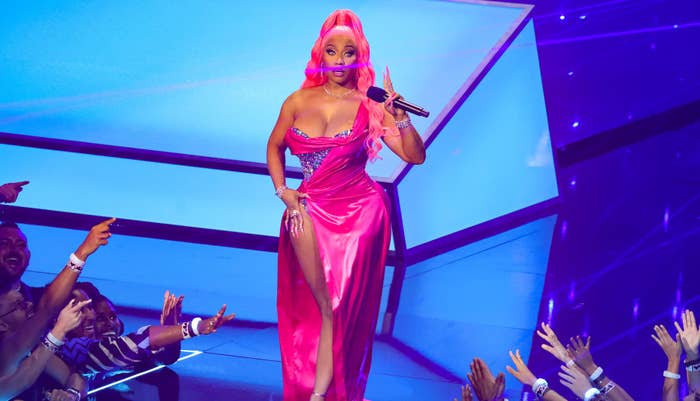 Several months after the premiere of TVX's Deep Fake Neighbor Wars, Nicki Minaj isn't thrilled that the series used an A.I. version of her in one of its episodes.
On Sunday, the rapper hopped on Twitter to share her thoughts on Deep Fake Neighbor Wars, which in one of its installments featured Nicki alongside Tom Holland and Mark Zuckerberg.
"HELP!!!" Minaj responded to a clip featuring A.I. Nicki. "What in the AI shapeshifting cloning conspiracy theory is this?!?!! I hope the whole internet get deleted!!!"
Hours after Nicki shared her thoughts on Neighbor Wars, she also teased that another collaboration with Drake is on the way.
Drake mentioned Minaj during his It's All A Blur tour stop in Detroit, MI, sharing that a forthcoming collaboration between the Young Money pairing is coming.
"I'm gonna give away one thing for you tonight, because I got a lot of love for Detroit," Drizzy told the crowd. "So I'm gonna have to tell you that me and Nicki Minaj did our first song together in, like, a really long time. I got a lot of love for her. Okay. Let me just assess the titties tonight, and then, we'll get to the most important part."
After catching wind of Drake's comments, Nicki responded by posting a throwback photo of her and Drake. "#Dricki," Minaj captioned the post.
Fans will have to stay tuned.