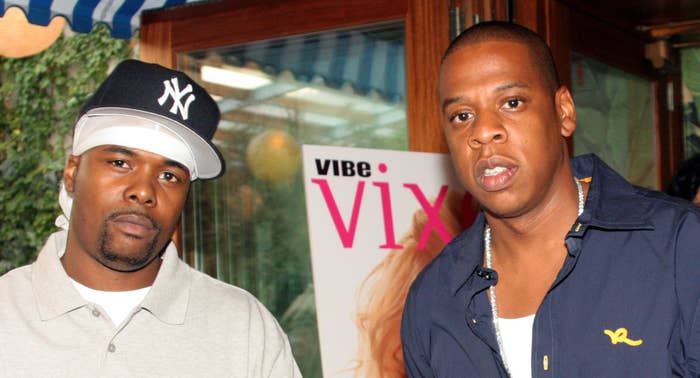 Memphis Bleek had to call in a favor to Jay-Z in order to score tickets to Beyoncé's Renaissance World Tour for his wife's birthday.
On Tuesday, N.O.R.E. shared a sneak peak of his and DJ EFN's upcoming Drink Champs interview with Bleek, who revealed he recently had to ask Hov for tickets to Bey's show.
"Yo listen, for me to get Beyoncé tickets was a problem," Bleek said. "My wife hit me like, 'Yo, you know she in Philly for my birthday," I'm like, 'Aight cool, what that got to do with me? You tryna send me in there for the war baby?' So, you know, fuck it, it's wifey, so I hit all the top dogs. I ain't gon' even say no names. All the bosses."
He added, "All of them said, 'Yo Bleek. You buggin? You know you gotta hit Jay!' I'm like aight, I tried not to, but now I gotta hit you. I got to! I tried to go around, but now this message gotta go to you, like fuck it."
As Bleek explains in the below clip, after attempting to secure tickets without having to bug Jay, he ultimately was left with no choice but to go to Bey's husband.
"Yo big homie, I need some tickets for the show, it's wifey B-day," Bleek recalled saying to Hov, who responded, "Ah nah, n***as tryna turn me into the ticket guy now?"
Memphis Bleek responded to N.O.R.E.'s clip by confirming his request did get honored, as he tweeted a picture of him and Jay-Z at the Renaissance World Tour.
"Better believe I got my tix," he captioned the post.
Of course, Bleek isn't the first entertainer who's credited Jay with giving them tickets to Bey's nationwide tour.
Earlier this month, Kid Cudi thanked Hov for scoring him tickets to the 32-time Grammy-winner's show, which he called "the greatest concert" he's ever experienced.
"Mad love to Hov for gettin me tix," Cudi wrote in a tweet at the time. "Love u big bro."