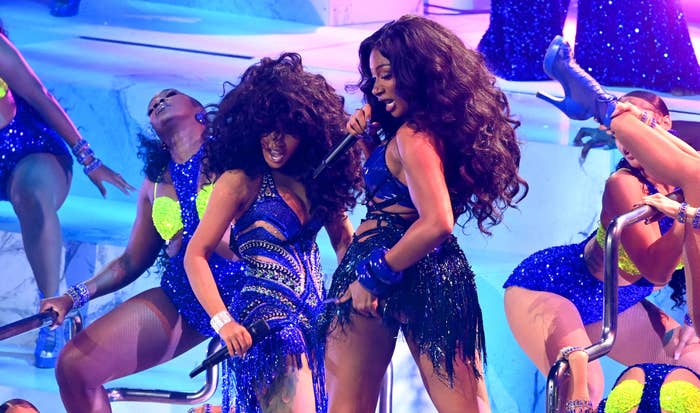 Megan Thee Stallion is teasing a future joint project with Cardi B.
This month Megan and Cardi joined forces for "Bongos," a new single that arrived three years after the duo scored a No. 1 hit with their first collaborative offering, 2020's "WAP."
In a new interview with Complex's Jessica McKinney, Megan, 28, revealed that she and Cardi, 30, are "building a little EP already," adding that the two hip-hop queens have recorded enough music that "we need to go on tour together."
When asked if the pair have thought about releasing a joint project, Megan replied:
"I literally think that's the route that we're going. So I've done two songs for her. And now I feel like I'm in a space where I know exactly what songs I want her to do for me. So we're really building a little EP already. We're gonna have enough music that we need to go on tour together. Me and [Cardi] going out together will be so amazing. We are already so cool. And I feel like we got similar fans. So if she wanted to do a little EP, I would definitely be so down to do that, but we are making enough music to already have that."
Elsewhere in her conversation with McKinney, the Houston rapper shed light on the new solo material she's been working on, adding that she's "getting to the meat" of her next album.
"I'm making music that I really, really love," the three-time Grammy-winner explained. "I'm making music that I'm not about to have to fight with anybody about."
She added, "But with this album, I feel like I'm getting to the meat. I'm getting to the bones. It's my story, and I'm telling it. I'm so excited because it's just turning the page into like this new chapter of my life and I feel like the Hotties are gonna be so excited to hear it."
Read Jessica McKinney's full Complex interview with Megan Thee Stallion here.