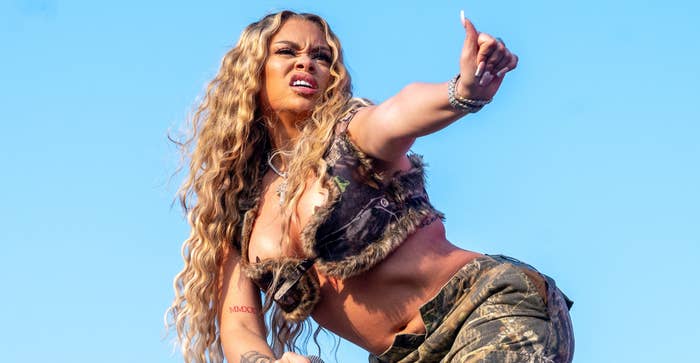 UPDATED 9/9, 6:00 p.m. ET: Coi Leray has responded to her father, Benzino, getting dissed by Latto on the remix of Young Nudy's "Peaches & Eggplants."
On Saturday, the "Isabel Marant" rapper took to her Twitter and shared a tweet that showed a screenshot of a conversation between herself and her father regarding the diss track. In the message thread, Benzino told Leray that Latto "admires" her along with her other rap peers and advised her to "stay focused."
The 58-year-old also claimed to have "the most famous neck on earth" while Leray told her father that she loves how these "lil stupid situations" brings them closer together as a family.
"Love always wins," Leray captioned the tweet.
See original story below.
Latto has dissed Benzino amidst her beef with his daughter, Coi Leray.
The 24-year-old rapper took verbal shots at Coi's s father on Latto's verse on the remix to Young Nudy's "Peaches & Eggplants." Specifically, the Ohio-born artist makes fun of Benzino's neck, or lack thereof, which social media has roasted the former co-owner of The Source about in the past due to his muscular build.
"Give me that neck like Benzino/Give me that neck like, 'Where it go?'," Latto raps on the track.
In a subsequent Instagram Live session, Latto mentioned the bar and took a moment to break down what the lyric really meant. "I said, 'Gimme that neck like Benzino,'" she explained when a fan mentioned it in the comments. "That mean, if I say 'gimme that' that means its took right? That mean its gone, right?"
Though Coi has yet to respond to Latto's diss, she did hop on Twitter to write, "Someone find me a pick of Karen."
Latto and Coi's beef began last month when the former dropped the latter's name on "Put It On Da Floor," where Latto raps, "Smokin' on that gas, blunt big as Coi Leray/Bitches like to run they mouth, but I'm the type to run a fade."

In a since-deleted tweet, Coi shared that she wasn't feeling the verse.
"Maybe I over reacted idk," the "TWINNEM" rapper wrote. "End of the day. Don't say my name for clicks and likes. Specially if we don't speak or communicate. I'm not a big blunt small blunt. Don't compare me to nada. Mention bitches you actually beef with."
She continued, "Put it on the floor but leave me out of the bs. … There's a lot that goes on behind the scenes. Y'all don't be knowing the half of the shit that goes on in this shit. But the main goal is ICON SHIT. If it don't make me rich or better person. Stay away."
Coi subsequently dropped Latto's name in the verse on "Isabel Marant," the lead single off the rapper's Blue Moon EP. "Yeah I'm on they ass (Yeah)/Hop up out that couch and roll up Latto out the bag," she raps in the song's opening verse.