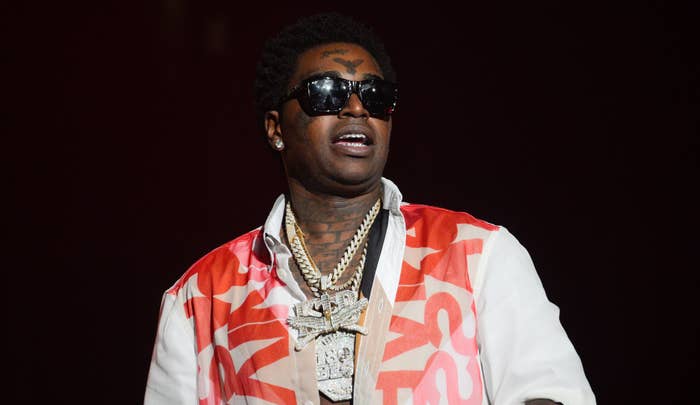 Charlamagne tha God believes Kodak Black is in rarified air when it comes to the greatest rappers of the current era.
On the latest episode of his Brilliant Idiots podcast, the Breakfast Club co-host compared Kodak to his Mr. Morale & the Big Steppers collaborator Kendrick Lamar.
"I'mma tell you something, Kodak is the GOAT. … Man, do people realize how dope Kodak Black is?" Charlamagne said. "Not just as a personality but as a rapper, as an artist. The thing that warms my heart the most is I know these true hip-hop heads be like, 'Ah, talking about Kodak Black...' I look at Kodak Black the same way I look at Kendrick Lamar."
He continued, "I'm not even joking. I feel like they're both two different levels of prolific and they're telling similar stories just from different places. They're just two different versions of the same kid from the hood. They're two sides of the same coin, that's why it made so much sense to me when Kendrick got Kodak to narrate his album."
It didn't take long before Kodak caught wind of Charlamagne's bold claim. The 25-year-old took to the comments section of DJ Akademiks' Instagram clip of the radio host's declaration, expressing his appreciation for Tha God.
"Appreciate everybody," the Florida MC wrote in all caps alongside some smiling, teary-eyed emojis. "Means soooo much to me."

Kodak Black shared his admiration for Kendrick Lamar during a conversation with Spotify's Rap Caviar last summer, reflecting on their Mr. Morale link-up.
"Me and Kendrick got a lot of little things in common that people won't probably understand," Kodak told Speedy Morman. "Both of us, we Geminis. Both of us, you know, we Hebrew Israelite. Me and him, we could talk and he understand me beyond than what the internet theories; it's like he got a different perception of me, and he ain't cap. Like, he say we going to do something, and we do it. You know, Kendrick from the streets for real, too. I fuck with that boy. I got a lot of love for him."