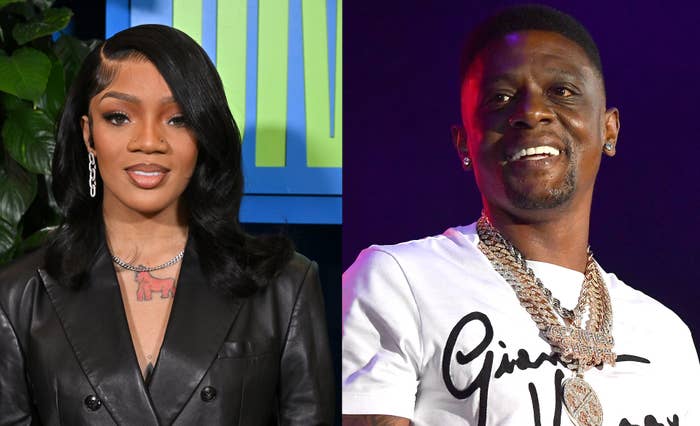 A friendship between GloRilla and Boosie Badazz may be forming, as the two sparked a back-and-forth over the weekend when the Baton Rouge rapper took to social media and revealed he named his dog GloRilla.
"I done named my dog GloRilla," Boosie said in the clip, before calling out, "Glo! Big Glo! Old GloRilla, man." 
After catching wind of Boosie's video, the Memphis up-and-comer took to social media to return the favor, naming her pet lizard after Boosie.
"Boosie! Hey there, Boosie Woosie," GloRilla yelled in a video of her standing in front of her aquarium summoning her the reptile. "Look at that Badazz. Look at my new thing. … Say hey to my new addition. Hey Boosie!"
Fans will have to wait and see if the duo's pat-naming leads to a collaboration.
Earlier this month, GloRilla returned and dropped the deluxe edition of her debut EP Anyways, Life's Great. Extending the rising artist's first solo Interscope project, which arrived back in November, the 13-track effort delivers a handful of new songs, including a remix of "Nut Quick" featuring Trina, "Don't Know (GloRidaz Bonus)," "Get That Money" remix with Niki Pooh and Gloss Up, as well as the Lil Durk-assisted "Ex's (Phatnall Remix)."
"Every song I got out right now, they were going crazy for," GloRilla told Complex last year, referring to her hit singles "F.N.F." and "Tomorrow 2." "So I know they expected the most out of me for my EP. That's what I was nervous about."