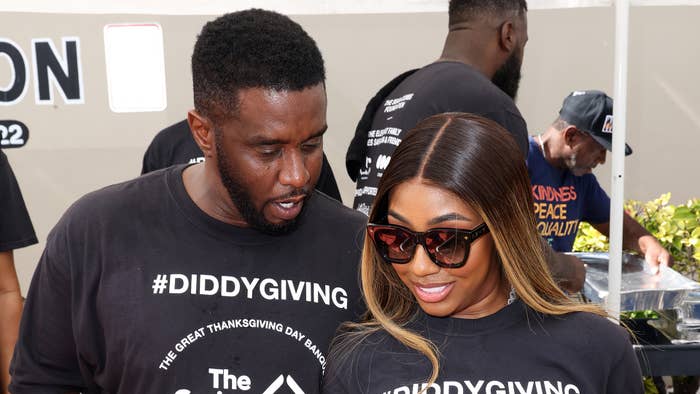 In a new interview with The Cut, Yung Miami spoke about how Diddy inspired her to launch a talk show and confirmed they're no longer dating.
"No," she said when asked if they were together. Despite the split, it appears they're on good terms. "We're still friends! We're still good friends! But we're single. That's not my man," she continued. "We had our own situation, I'm not gonna put a title on it. We were fucking with each other hard. We were together every day at one point. He supported me, I supported him. I'll let the internet call it whatever they want to call it."
Rumors first circulated Miami and Diddy were seeing each other in 2021, but they only confirmed their status in June 2022 in the first episode of Miami's show Caresha Please. The show is produced by Revolt, the cable and online media company co-founded by Diddy in 2013. Earlier this month, she told Complex that she was "single" and that Diddy will "always" be her friend. 
The City Girls rapper shared that she launched the series after she made an appearance on Justin LaBaoy's Revolt series Respectfully Justin. "Diddy came, and he sat through the interview. After the interview, he came to me, and was just like, 'What's your number?'" she said. "He wanted me to meet him at his house in Miami. I met him at his house, and he was like, 'I think you should do a podcast. You're good at it. You've got a strong personality.' So that's how it came about."
As for the decision to launch Caresha Please with Diddy as the first guess, she said it was an effort to stop the speculation about them. "People was gonna find out because he is who he is, I am who I am," she said. "We was just like, if we're going to put it out there, we're going to be the ones that talk. I don't like anyone talking for me." When it comes to the future of Caresha Please, she recently told Complex that her dream guests include Denzel Washington, Lori Harvey, SZA, and Beyoncé.
Elsewhere in the interview, she touched upon her admission on Caresha Please that she enjoys golden showers. The moment sparked reactions online and even caused "Pee Diddy" to trend on Twitter.
"I never said he was the one I did that with," she said, referring to Diddy. "Sex is a part of life. I'm grown, and maybe I talk about it too much, but everybody's got their personal experiences. Some people get shitted on. Some people live life on the edge, some people boring as fuck. I watch a lot of porn, bitches get peed on. If we grown and we in the house just chilling and want to talk about sex, what's wrong with that?"