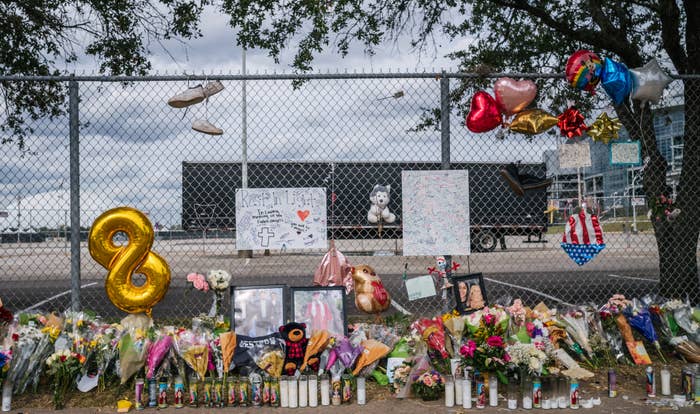 A woman filed a wrongful death lawsuit against Travis Scott, Live Nation, and others behind Astroworld Festival 2021 after her pregnancy loss, allegedly over injuries sustained at the November event.
Rolling Stone reports that the suit, which was initially filed in December following the Astroworld Festival that left 10 dead, alleges that Shanazia Williamson's unborn child died as a result of the crowd crush that occurred during Scott's performance. Williamson and her husband Jarawd Owens are suing Scott, promoters Live Nation and ScoreMore, security company Valle Services SMG, ASM Global, and the Harris County Sports and Convention corporation.
"While in attendance at the festival, Shanazia was trampled and crushed resulting in horrific injuries and ultimately the death of her and Jarawd's unborn child," the lawsuit reads. "In addition, Shanazia sustained injuries to her shoulder, back, leg, chest, stomach and other parts of her body."
The organizers of the festival are accused of failing to safely "plan, design, manage, operate, staff, and supervise the event," which also left hundreds injured. The suit accuses the named defendants of hiring inadequate security for the festival, and not recognizing some of the more serious safety hazards that come with hosting a large-scale event.
Travis Scott has gradually been welcomed back in the music industry, as made clear by Diddy's recent statements on the rapper. In a video shared this week, Diddy said that he made a "demand" that Travis Scott be able to perform at the Billboard Music Awards. "NBC said 'Yes,'" said Diddy. "It's going down Sunday, Travis Scott will be performing… now that's love. I am uncanceling the canceled." 
The security company that provided the majority of security for the event, Contemporary Services Corporation, has also come under fre recently despite denying all allegations. As BuzzFeed News recently reported, the same security company was linked to the show where Dave Chappelle got struck by a member of the audience. Additionally, New Jersey Democratic Congressman Bill Pascrell has called for Live Nation to be broken up, citing concerns regarding its safety record.
"About 200 deaths and 750 injuries occurred at Live Nation events since 2006," said Pascrell, per the New York Post. "Have safety measures not improved? Has Live Nation silenced organizers? I want answers. I think the public deserves to know." 
Travis Scott has yet to respond to the lawsuit. Complex reached out to a representative for comment. The rapper and the others involved with Astroworld are facing $2 billion in lawsuits, and he's caught flack from the families of some victims who have suggested he's not showed much sympathy to those who died at the festival. 
The rapper performed in public last week for the first time since the tragedy. He's also set to headline Primavera Sound festival in São Paulo, Santigo and Buenos Aires later this year.