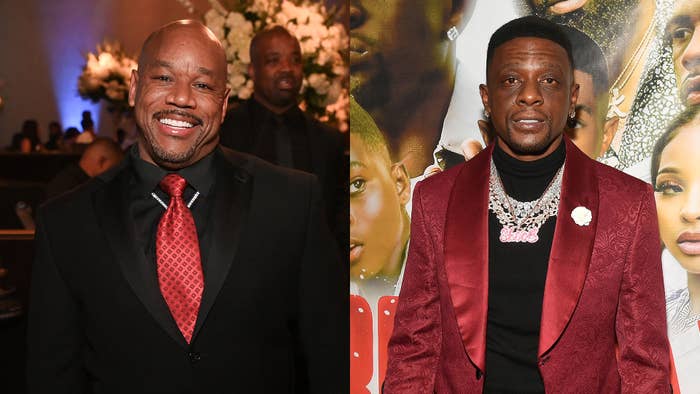 After controversial rapper 6ix9ine was hospitalized due to an assault in a Florida gym bathroom, Wack 100 has wished for a speedy recovery while Boosie Badazz cheered on his attackers.
"It's unfortunate what happened to 6ix9ine," wrote Wack 100 in a post shared on Instagram. "He's a good guy. Life is full of lessons. This isn't about his so called street situation. This is about decision making on both sides. The ones who filmed and posted themselves will remember this day for years to come. And 69 will now know he has to move accordingly. #staydangerous & don't hesitate. Wish him a speedy recovery."
Boosie, meanwhile, took a much more enthusiastic approach to the video showing 6ix9ine getting beat up. "Lmao SNITCHES GET STITCHES !!" wrote Boosie, who has previously expressed his dislike of 6ix9ine. "LETS START A GO FUND ME FOR THIS GUY … WE NEED TO START A GO FUND ME FOR THIS GUY!! LIKE COOKIE MONEY SAY WE GOTTA STARTT REWARDING THE REAL ONES !!"
6ix9ine was hospitalized on Tuesday after he was assaulted by a group of men in an LA Fitness sauna in Florida. At the time of the attack, he was without personal security. "He was attacked in a sauna at a gym by three or four thugs who beat him up (he tried fighting back)," his attorney Lance Lazzaro said in a statement that was provided to Complex. "He had cuts to his face and bruises. Employees heard the disturbance and the perpetrators fled. Police in South Florida were called and he was transported via ambulance to a local hospital."
In clips of the assault that have since circulated, one man can be heard yelling, "That's how they supposed to treat your bitchass."
6ix9ine sustained injuries to his jaw, back, and ribs in the attack.