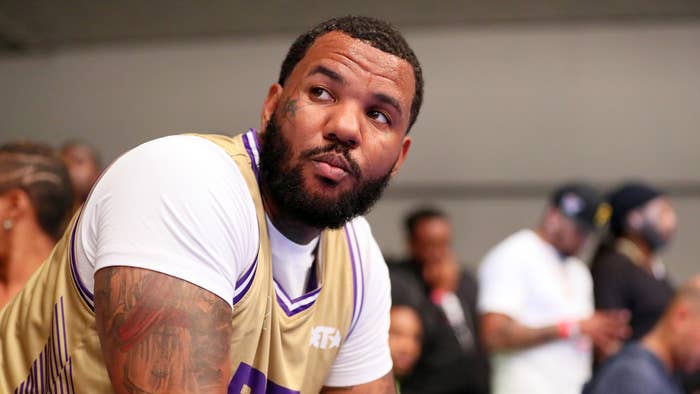 During a recent nightclub performance, The Game suggested that Kendrick Lamar and Nipsey Hussle have him to thank for their success in the music industry.
"I took them failures, I caught them bullets, I was in them shootouts, I stood behind them bars, n***a," he addressed the audience, as shown in the video below via HipHopDX. "I had them kids, I showed y'all them kids, I put out them albums. N***a, I took Nipsey's CD. Took it and put it in my pocket, n***a. I took Kendrick and took that n***a on tour when Kendrick was Jay Rock's motherfucking hype man, n***a. I put the West on my back, so when n***as say, 'I'm him' .... No you not, I'm him, n***a."
The Game was undoubtedly influential in the early days of Lamar's career. Years before he dropped his debut studio album Section.80, Lamar appeared on several songs with Game under the alias 'K. Dot.' Game was also one of the earliest supporters of Nipsey.
In an interview with BigBoyTV in 2019, Game revealed that he met Nipsey just by chance one day when he was driving around in Crenshaw. He recalled when the rapper approached his car with around ten or so others and he believed he might be running into some Crips looking to cause some trouble due to his association with the bloods. "Nip pulled out a CD and he was like: 'What's up Game? I'm Nip. We the Slauson boys, this my demo,'" he said. "Later on, we end up doing 'They Roll' and a few other songs that night. Nip would never let me forget that, never."
While Game has been on great terms with Kendrick Lamar since the early days, in 2021 he suggested no one from Compton is capable of outrapping him, Kung-Fu Kenny included. "Can't nobody in Compton out rap Game, n***a," he said in a chat on Clubhouse.
"Kendrick my n***a," Game continued. "Kendrick doing his shit. I love that n***a to death. N***a, I flew past Kendrick when that n***a was on foot, n***a, in a Range Rover and showed him how to do this shit. Don't play. Don't play with Game name. Compton, n***a. Hardest n***a in Compton, rapping, lyricist, me. Any n***a that say any different, I'll body him and any n***a he fuck with."