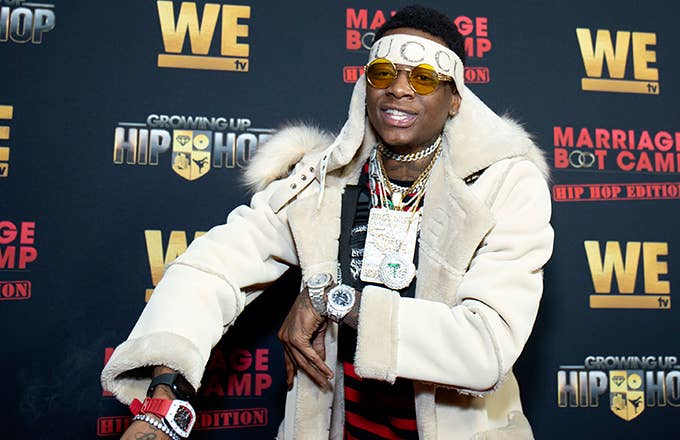 In December, 2018 B2K announced they were setting off on a reunion tour in 2019, bringing along Mario, Lloyd, Chingy, and more for the throwback series of shows. Omarion even joked that the tour had a strict early '00s dress-code. Soulja Boy, who went No. 1 on the Billboard Hot 100 with "Crank That" back in 2007, thinks he should be a part of the tour, too.
"Why aren't you on the Millennium tour," Soulja Boy was asked on the red carpet for WE TV's Hip Hip Thursdays event. "Man cause they ain't have enough money for Young Draco man," he responded. "They gotta cut that check cousin. [...] Millennium tour cut that fucking check and get Soulja Boy on that bitch."
While Soulja Boy would definitely stand out among the rest of the lineup of the mostly R&B-focused tour, it's clear that he thinks he's deserving of a spot. The rapper also said that he had the biggest comeback of 2018, refuting that Tyga had a better year than him.
Recently, Soulja Boy was involved in a car crash during mudslides caused the California wildfires. "My car got stuck too almost went into the ocean," he revealed on his Twitter. "I'm just thankful to be alive, I don't care about the car it's materialistic, you can't take it with you when you're gone."