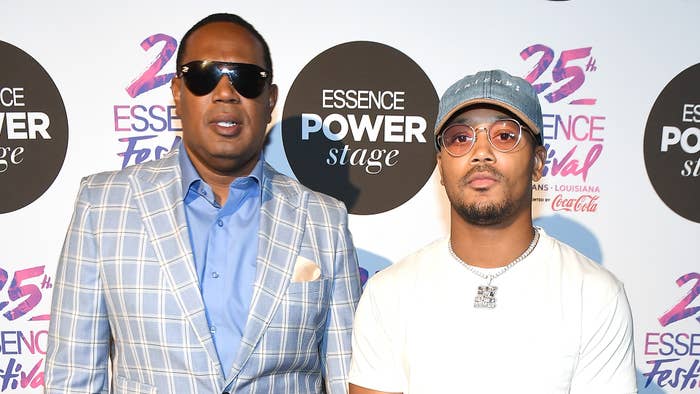 Romeo Miller has revealed that he's reconciled with his father Master P following their brief online beef last month.
In a message shared on Instagram alongside a photo of them together again, Romeo wrote about squashing the issues with Master P after having some "very hard conversations" on New Year's Eve. "In order to be used, you have to be willing to be misunderstood and humiliated sometimes," he wrote. "Noah was mocked for building the boat, Jairus showed us that sometimes we have to be willing to walk through the dead places so that God could show us how he can use every situation, no one ever thought little David could defeat the giant, and we all know the mistreatment of Jesus. My point, I'm willing to fall on my sword for mines!"
Romeo added that their online back-and-forth was "never about parent vs child," and they've ultimately come out the other end stronger than before. "Me and my father @masterp had very hard conversations; ironically outside in the rain, but in order for any generation to grow, that communication has to be had and reciprocated on both sides," he continued. "The good, the bad, and the ugly. No matter the journey ahead, our family can truly begin to heal and I believe many others will use our story as an example to learn from. What a way to close the year!"
He ended the post with a tribute to his sister Tytyana Miller, who died last year from an accidental overdose. "Vivre (live) l'amour (love) et pardonner (forgive). #ForTyty," he wrote.
Master P shared the same image over on his Instagram, and emphasized the importance of holding himself accountable.
"Happy New Years 2023 is all about 'Forgetting the past and looking forward to what lies ahead.. Pressing toward the Goal' Philippians 3:13," he said. "As a parent, I'm growing, taking self-accountability and educating my family and the next generation. Love takes growth and forgiveness. Seek God first, and everything else will fall into place. @romeomiller and to all of my kids We All We Got!"
The two fell out last month after Romeo appeared to blame his father for the death of his sister by ignoring her struggles with mental health. Master P ripped into his son and "this new generation of kids" for "blaming their parents for everything." While the two shared some barbed comments, Master P maintained that he loved his son and wanted to find a solution to their issues.