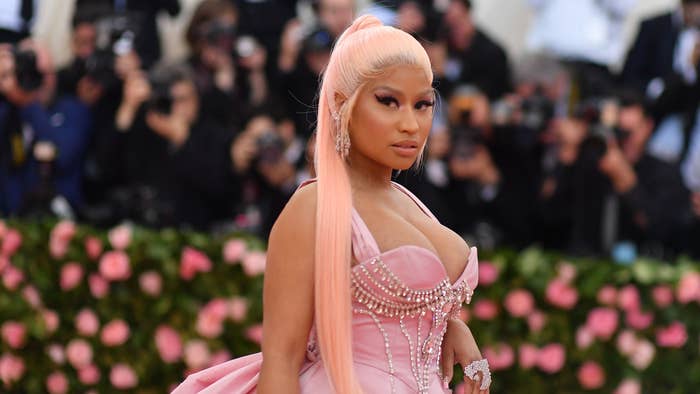 After a fan appeared to question why she would turn up to Fivio Foreign's recent birthday party, Nicki Minaj has reminded her Twitter followers what she's about.
Clips of Nicki and Fivio turning up at the party circulated on Twitter, with Fivio writing, "Party'n w @NICKIMINAJ on yah Cday is the craziest gift I ever got." Eventually, one person suggested that Nicki isn't about that lifestyle anymore.
"I wish she'll move on from this lifestyle this isn't you anymore Nicki," the person wrote in a since-deleted tweet, as pointed out by the Shade Room. "Tell me you don't know anything about Nicki Minaj w/o telling me," Nicki replied. "Ppl rlly create their own perception of you then tell you not to be you. Girl eat shit please. Thank you. Out of all the 3 wishes a btch get a btch using 1 wish to tell me not to be who I've always fkng been." 
Minutes later, she followed up with another tweet. "My whole AUTHENTIC come up is fully documented for the world to see," she continued. "YouTube is free I think still. Y'all want me 2b some rich RNB singer/pop star so bad. 🤣 (well not the smart ppl) they know my story. 1 thing u can never change is ur story. I can&will only be me. Take it or🚪."
In further tweets about the baffling criticism, she retweeted a fan who suggested the initial comment had "racial undertones," before reiterating that people have created an image of her that's not accurate. "Can y'all please let me enjoy the moment? Please?" she added. "I love you guys so much. I've mentally checked out of so many moments. Pls let me enjoy this 1."
Her comments come not long after Nicki addressed Remy Ma's comments on the Drink Champs podcast. Remy claimed that the two rappers agreed to not mention each other, but Nicki said no such conversations went down.
The two rappers linked up for their track "We Go Up" earlier this month.