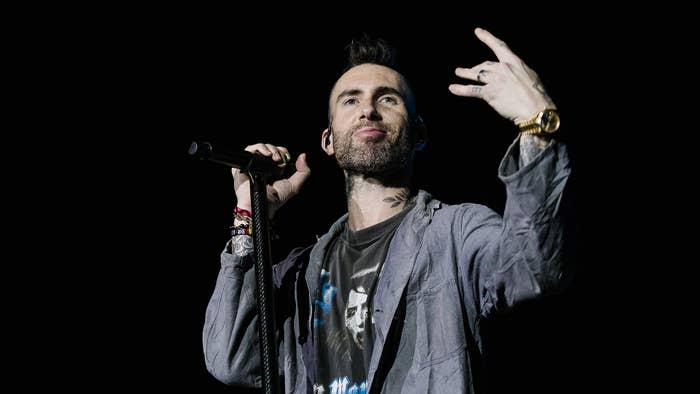 Maroon 5 frontman Adam Levine told Zane Lowe that he's sad "there aren't bands anymore," and the internet greeted him with resounding confusion.
Upon the release of the band's new song "Beautiful Mistakes" with Megan Thee Stallion, Levine told Lowe on Apple Music that he's nostalgic for times when bands dominated the musical landscape. "I've been showing my kid music videos, my little girl. And it's funny how you go back and re-watch like these old videos, and listen to these old songs, and I've been playing her a lot of Avril Lavigne records," he said, reflecting on how he would take songs "for granted" when they first came out.
"It's funny, when the first Maroon 5 album came out there were still other bands. I feel like there aren't any bands anymore, you know?" he continued. "That's the thing that makes me kind of sad, is that there were just bands. There's no bands anymore, and I feel like they're a dying breed. And so I kind of, in a weird way, as far as … I mean, there still are plenty of bands, and maybe they're not in the limelight quite as much, or in the pop limelight, but I wish there could be more of those around."
While there aren't quite as many bands charting on the Billboard Hot 100 these days, there's still plenty of group acts that have achieved varying levels of success. Still, Levine appears to think there's a distinct lack of them, and Twitter reacted to his comments by either mocking him or just expressing their disbelief. As of right now, he hasn't responded to the reaction to what he said.
Check out some reactions to Levine's comments below.



adam levine thinks paramore broke up :(


— hayley from Paramore 🥀 (@yelyahwilliams) March 5, 2021



Adam Levine complaining "there's no bands anymore" is like the owner of Starbucks complaining there's no local coffee shops anymore. - Nelson https://t.co/cm1xoVEf9P


— DREAMERS 🔮 (@DREAMERSjoinus) March 4, 2021



What are we Adam Levine? CATS?!?!?


— Garbage (@garbage) March 4, 2021



i'm fully convinced maroon 5 isn't a band it's just a name that adam levine has to use for marketing and contract obligations https://t.co/JZ0SY4fSGC


— brandy 🧑🏾‍💻 (@punishedsk8er) March 4, 2021



adam levine there are like 500k bands and they all think yer a nerd


— hyper relevisation (@Eve6) March 4, 2021



mgk mad at my shoes





maroon 5 man doesn't even think I exist





motherfucker ur wealthy I am poor leave me the fuck alone lmao


— brendan murphy (@brendan905) March 5, 2021