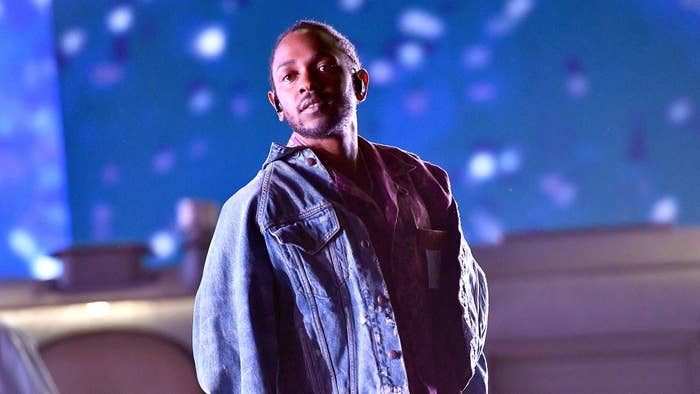 The next few months will see the release of a handful of blockbuster albums, and early projections show that Kendrick Lamar and Harry Styles in particular are set to make huge debuts with their respective projects.
Hits Daily Double reports that Jack Harlow's Come Home the Kids Miss You is expected to bring in an impressive 160,000-180,000 in its first week. Kendrick's highly-anticipated follow-up to 2017's Damn, meanwhile, is currently projected to move between 350,000-400,000 units in its debut week. The only album projected to perform better is Harry Styles' Harry's House, at 400,000-450,000. 
The latest numbers for Kendrick's Mr. Morale & The Big Steppers are revised from a figure last week, which projected the album would earn 350,000 equivalent units. His last album, Damn, took in 603,000 first week equivalent album units, with 353,000 of those from traditional album sales. Streaming is more-or-less the default way to listen to music these days, which explains the drop from his last effort, especially when considering he has yet to announce physical editions of the record.
Other notable first week figures include Bad Bunny's Un Verano Sin Ti, which is expected to debut at No. 2 with 125,000-150,000 units, with Harlow's Come Home the Kids Miss You projected to top the Billboard 200 chart. Post Malone's next project, Twelve Carat Toothache, is also projected to make a splash when it arrives on June 6 with 250,000-275,000.
Check out the projections for all albums below.
Jack Harlow, Come Home the Kids Miss You (May 6): 160,000-180,000
Bad Bunny, Un Verano Sin Ti (May 6): 125,000-150,000
Kendrick Lamar, Mr. Morale & The Big Steppers (May 13): 350,000-400,000
Harry Styles, Harry's House (May 20): 400,000-450,000
Post Malone, Twelve Carat Toothache (June 6): 250,000-275,000
Luke Combs, Growin' Up (June 24): 150,000-175,000