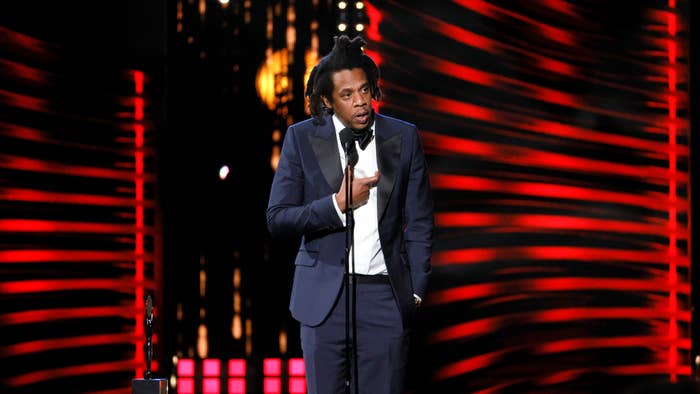 Jay-Z and Roc Nation have joined a group of investors bidding to build a casino in New York City's Times Square, the New York Post reports.
The hip-hop mogul and his entertainment agency have entered into a partnership with SL Green and Caesars Entertainment, who hope to open NYC's first full-scale casino at the 1515 Broadway office tower (which is already owned by SL Green). The plan is for the casino to occupy eight floors in the 54-story tower, and the ground floor will remain in use for non-gaming uses such as an entrance to the iconic Minskoff Theater.
"New York is a beacon, the epicenter of culture. We have the opportunity to create a destination at the heart of Times Square, the crossroads of the world," said Hov in a statement shared on Monday. "My partnership with SL Green and Caesars, this coalition, has all the promise and commitment to economic opportunity, growth and enrichment for the community, and everyone who visits the Empire State."
The three-way partnership was announced at SL Green's annual investor conference on Monday, and Roc Nation is set to be the official entertainment partner in the deal. 
"There's no better partner than Jay-Z and Roc Nation to help Caesars Palace Times Square ensure that Times Square remains a global entertainment hub and an economic engine for New York," added Marc Holliday, Chairman & CEO of SL Green. "Together, we will bring the nearly 130 million annual pedestrians a stronger and more exciting Times Square to visit, reunifying the bow tie around a new set of innovative programming that will appeal to New Yorkers and tourists."
As part of the bid, the investors have suggested that the casino could bring in an additional seven million visits to Times Square per year, over 600,000 new overnight visits to local hotels, and over $166 million in retail spending at nearby businesses. It's also been suggested that it'll benefit Broadway ticket sales, supporting 500 workers in the theater district.