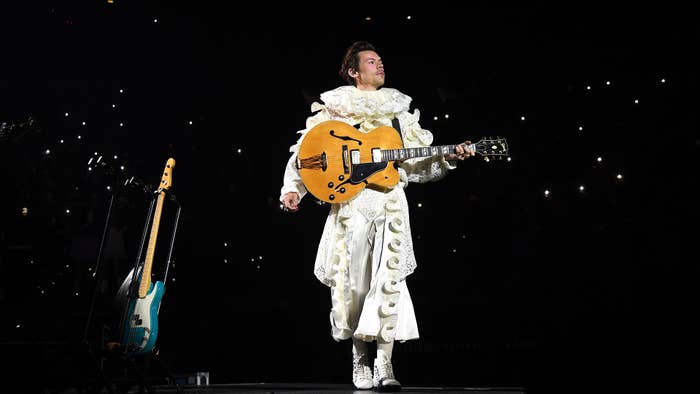 During his show in Milwaukee on Wednesday, singer and actor Harry Styles brought a young fan on stage to help them come out to their mother.
The moment was captured on video on fans present at the show, which took place at the Fiserv Forum in Milwaukee, Wisconsin. 23-year-old McKinley McConnell, the fan who received the sweet assist from Styles in coming out, shared the touching gesture on Twitter.
During the show, McConnell held up a sign that read, "My mom is in section 201, help me come out." Noticing the sign, Styles approached McConnell and asked, "What would you like to tell your mother?" Overwhelmed by the moment, she was asked if he could potentially tell her mother on her behalf. "I can tell, yeah, sure," Styles said with a smile, at which point he walked across the stage. "Lisa! She's gay!" he said to screams and applause from the audience.
"Now, I don't want to ruin the moment, but wouldn't it be nice if you were a little bit closer together?" he joked, noting how far McConnell was from her mother at the sold-out show.
"A moment that will actually be with me forever," wrote McConnell on Twitter. "thank you for creating a safe place for me. thank you for letting me grow along side you as a fan. thank you for helping me know who i am. thank you." Styles has long been a supporter of the LGBTQ+ community, and has frequently sported pride flags at his concerts in the past.
"I literally got her the ticket so last minute," McConnell told NBC News when explaining why she was so far from her mom at the concert. "I was lucky to get a ticket for the general admission pit for myself. I know my mom, and she wouldn't have been up for the pit."
McConnell also said that she didn't expect for her mom "to cry that much" and added that her "probably always suspected" she was gay. "She just kept saying she loves me and is proud of me."
Styles is fresh off a Halloween performance at Madison Square Garden in New York City, where he garnered attention for his costume as Dorothy from the Wizard of Oz.