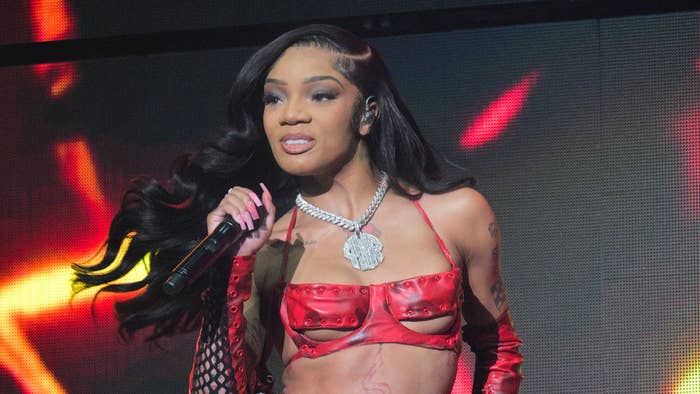 GloRilla and Sukihana have responded after Lil Duval, apropos of nothing, asked his followers who they would "marry, fuck, kill" out of the two rappers and Sexyy Red.
"Out of Sukihana, Sexxy Redd, Glorilla.... marry, fuck kill," Duval, 46, tweeted on Thursday, August 17. Not long after, GloRilla, 24, chimed in with a quote-tweet response. "Granddad why you worrying about dese young hoes pussy ?????" she replied.
Sukihana, 31, also wasn't too happy about Duval's tweet. However, she decided not to quote-tweet him, and instead just pose a question to her own followers. "Lick lil duvals ass or go to jail for the rest of your life only gay men can answer," wrote Sukihana.
Sukihana also has some history with Lil Duval. After YK Osiris forcibly kissed her without her consent during a panel at the Crew League basketball tournament in Atlanta, Lil Duval suggested that Osiris should "tongue kiss" her, despite her obvious discomfort with the situation.
Duval has gotten in trouble for making controversial tweets in the past. Earlier this year, users pointed out that he routinely made jokes about sexual assault during the earlier days of his Twitter account. "He would start raining the night I wanna go out. Fuck it ill just rape myself," he wrote in one particularly gross post.
Other tweets from his past include, perhaps most disturbing, "Whenever my daughter period starts that's when I'm gon be the first dude to dog her out." Twitter users also criticized Duval for his latest post, with many highlighting the difference in age between him and the artists he asked the juvenile question about.
Check out responses to Duval below.