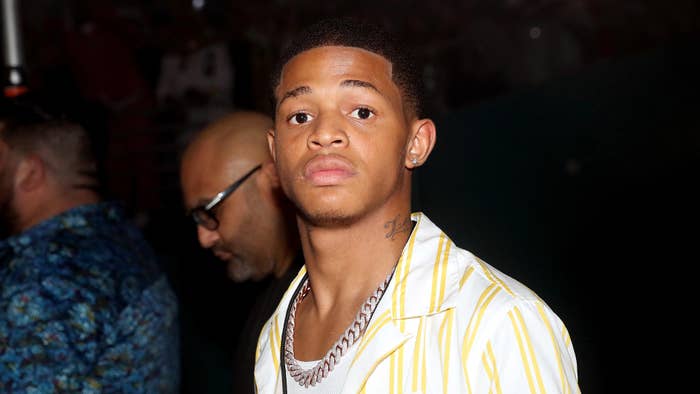 UPDATED 6/11, 11:20 p.m. ET: YK Osiris posted what he says is his "sincerest" apology on Wednesday evening.
"In an attempt to be playful, I misread the moment and violated Sukihana's boundaries," a portion of his Instagram statement reads. "I understand the importance of consent and I am embarrassed by my behavior."
The 24-year-old claims he takes "full responsibility" and made "attempts" to apologize to Sukihana, for whom he has "admiration" and did not intend to "disrespect."
See original story below.
YK Osiris is facing criticism after a video showed him forcefully and repeatedly trying to kiss Sukihana on the lips during a panel at the Crew League basketball tournament in Atlanta.
In the clip below, the "Worth it" rapper is seen giving the Love & Hip Hop: Miami star a shoulder rub, which she didn't appear to be into. Osiris was joined by other commentators on the panel, including Lil Duval, Funny Marco, and Buster Scher. He then pulled Sukihana's head back and forcefully planted a kiss on her without her consent.
"Stop it," she told Osiris as she tried to pull away from him. Sukihana was clearly shocked by the moment, but Duval laughed it off and suggested Osiris should "tongue kiss" her. He attempted to kiss her a second time, which prompted her to yell at him as he did.
The clip has prompted criticism online, with many calling the incident a sexual assault.
Not long after the video started circulating, Sukihana appeared to address the situation in a tweet.
"I drink to hide that I'm very sensitive. I feel things more then the average person," she wrote. "I stopped drinking yesterday but today I've been crying all day. I asked God to strengthen me and use me to help others and to order my steps in his word. I just want to go away for awhile."
She posted once more before deactivating her account, per XXL. "I am hurt and I am scared to stand up for myself," she wrote.
YK Osiris has not responded to the criticism.