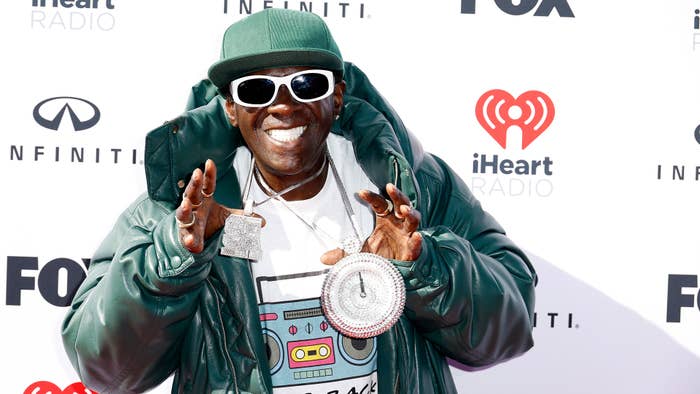 In an interview with Roxanne Shante for her SiriusXM show Have a Nice Day, Public Enemy hypeman and rapper Flavor Flav shared how a drug addict inspired his signature clock chain.
"So one day, as a joke, as a joke, you know, this crackhead came through my projects, you know what I'm saying? Selling these shower clocks that she stole from a place called Fortunoff," Flav told Shante. "Well, she went to Fortunoff, stole this big box of shower clocks came through our projects selling them. So my boy, Son of Berserk... He took the stopwatch off my neck and put the clock around my neck and everybody was laughing. It was a big joke and all of that."
Shortly after he put the clock around his neck, he was dared to wear it when Public Enemy opened for the Beastie Boys during a New Jersey show in 1986. "I wore the clock, Roxanne, and then the next day on the front page of Newsday, New York Times, New York Post," he shared. "The look of the clock was dope."
This isn't the first time Flav shared the story of how his signature piece came to be. In an interview with DJ Vlad in 2019, he said Son of Berzerk dared him to wear the clock during a show. "They dared me to wear this clock," he said. "Back in them days, if you dared Flavor Flav to do something, I would do it."
He also pointed out that in the early days of Public Enemy, his bandmate Chuck D would sport clocks too. "This was part of our wardrobe," he added. "One day, Chuck D, he took his clock off. Hank Shocklee [of the Bomb Squad] was like, 'Flavor Flav, you need to take that clock off, man. It's gettin' old. It's out of date.'" Obviously, he refused, it became part of his identity as a performing artist.
Earlier this year, Flavor Flav opened up about his previous struggles with drug addiction. "I kinda kept it hidden," he told DJ Akademiks. " I never really let people know exactly what I was doing. I started letting people know what I was doing when I was getting tired of being like that. There's a point and time in life where you get tired of doing shit. … Mainly when it doesn't get you no place." He said at one point he was spending between $2,400 to $2,600 a day on drugs.
In October last year, he celebrated two years of sobriety. "I am very proud of myself," he wrote at the time. "I just had to let everybody know it. I'm proud of me."