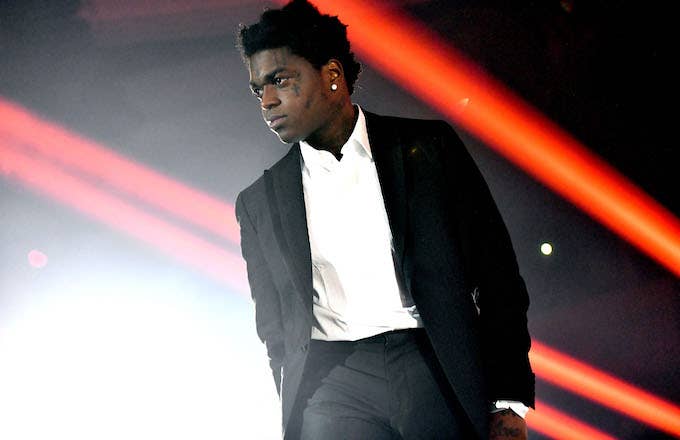 Kodak Black was arrested on May 12 as he was set to perform at Rolling Loud Miami and is facing up to 10 years in prison for allegedly providing incorrect information on firearm applications. TMZ now reports that the Florida rapper has been linked to a shooting that took place back in March. Prosecutors have said that Kodak bought three weapons and over 100 rounds of ammunition back in February, and one of those weapons was reportedly found with his fingerprints on it at the scene of a non-lethal shooting.
The shooting took place on March 7, with a rival rapper allegedly the target. No one at the scene was hit, but a nearby house was shot a number of times. Using the allegedly forged documents from January to purchase firearms the following month, Kodak bought a Mini Draco, a Sig MPX K 9mm, and a Sig P238 .380 handgun. Federal prosecutors have said that the MPX K was the weapon they found after the shooting.
Bradford Cohen, Kodak's attorney, has responded to the prosecutors by stating there's currently no reports that his fingerprints were on the gun. "Witnesses came forward to us as well and stated they did not see Kodak Black at the scene that night," he added. Investigators discovered the weapon with a live round jammed in the chamber. 
A Porsche Panamera that Kodak rented was allegedly in the Golden Arces neighborhood in Pompano Beach on March 7. The car was later found abandoned away from the scene of the crime by police officers. They downloaded the GPS data from the car, pinpointing it at the scene of the crime at the suspected time of the shooting. While Cohen insists that multiple people have vouched for Kodak not being there, prosecutors have said witnesses have come forward to say that he was.
Kodak was previously indicted for sexually assaulting a teenage girl in 2016 and faces up to 30 years in prison. Upon filing for his application to legally purchase guns and ammo, he lied and said he was not under indictment.