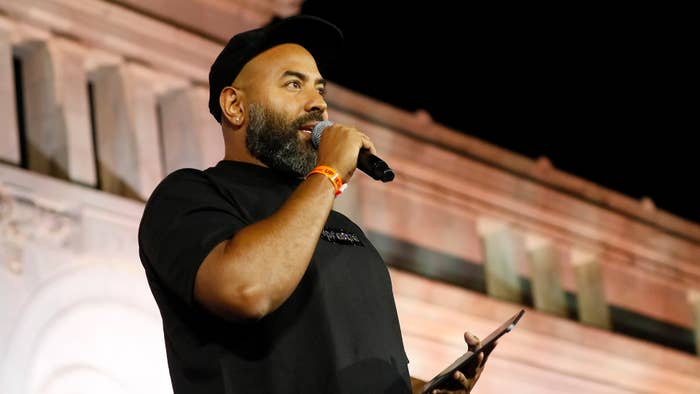 Ebro Draden said he's heard whispers that major record labels aren't looking to sign as many rappers right now.
In a tweet shared on Thursday, Aug. 17, the Ebro in the Morning host said he recently got a pretty revealing phone call about the current state of the music industry. "I got a calling saying... 'It should be noted many major record labels have deprioritized signing Rappers,'" his tweet reads. "The focus is now African Music & Latin Music Rappers better stop being boring and talking about the same shit over and over, chasing TikTok success and comment sections.'"
There have only been two No. 1 hip-hop albums on the Billboard 200 chart in 2023, Lil Uzi Vert's Pink Tape and Travis Scott's Utopia. Colombian singer Karol G, however, scored a No. 1 earlier this with her latest album, Mañana Será Bonito. Peso Pluma's third studio album debuted at No. 3 in June, too. On the afrobeat side of things, artists such as Burna Boy, Tems, and Davido are continuing to gain international hype and success. There hasn't been a single No. 1 hip-hop record on the Billboard Hot 100 singles chart, though.
There was a string of no. 1 hip-hop albums in 2022, including two from Drake, Pusha T's It's Almost Dry, Kendrick Lamar's Mr. Morale & the Big Steppers, and Future's I Never Liked You. But for the most part, the year was dominated by Bad Bunny's Un Verano Sin TI, which spent a total of 13 weeks at the No. 1 spot and was the best-performing album of the year.
Earlier this month, a new Billboard report detailed the frustration many record executives are feeling regarding the music industry right now. "Each person I talk to in the industry is more depressed [about this] than the person I talked to before them," an anonymous exec said.
The reality of breaking new artists right now appears to be tougher than before, especially now that platforms such as TikTok lower the barrier for entry, and also potentially oversaturate at the same time. Coi Leray agreed earlier this year that the music industry is "oversaturated."
Yo Gotti has also stated that the rap game is "semi-boring."
"I just feel like since COVID, I feel like they put us inside and I feel like we never came out. Even though we out, we not out. The energy ain't been the same," he said.