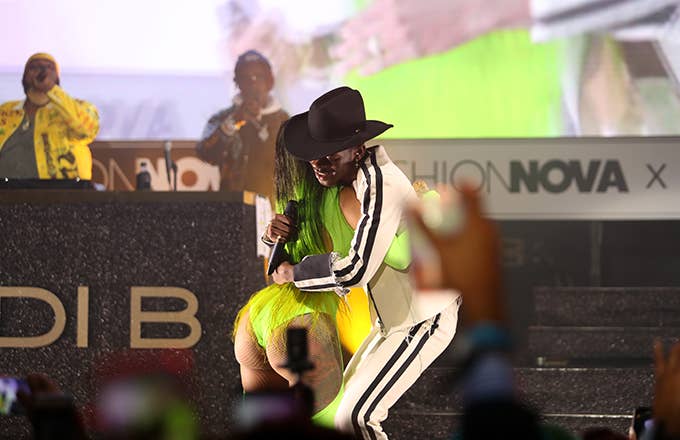 Lil Nas X has had a whirlwind year so far, and it's all off the back of one song and a remix. The "Old Town Road" rapper stopped by Cardi B's Fashion Nova launch event in Hollywood, and Cardi even joined in for a singalong.
To announce that she had a special guest at the event, Cardi highlighted how proud she was of Lil Nas X for getting a No. 1 on the Billboard Hot 100. "That shit is hard as fuck, so when every single time I see somebody get that spot I be like, damn I'm proud of you bitch," Cardi said before welcoming Lil Nas X on stage. 
Cardi B recently sat down for a chat about Fashion Nova with W Magazine, which she says is very much a size-inclusive collection. "I have fans that come in all sizes," she said. "I felt like it wouldn't be fair. I took into consideration that there are things that certain people and certain sizes can't put on, so I made sure that everything is pleasing for every woman's body—but still sexy."
Lil Nas X, meanwhile, managed to best Taylor Swift's new single "Me!" and stayed at No. 1 for the fifth straight week.